Over 400,000 Candidates To Sit For 2023 WASSCE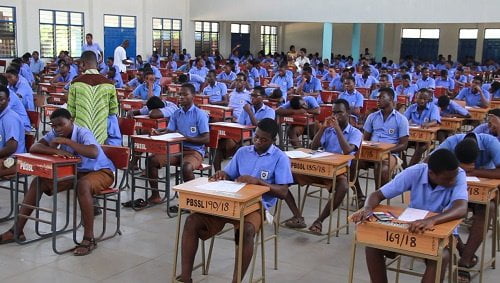 The number of candidates to sit for the 2023 West African Secondary School Certificate Examinations(WASSCE) has been revealed. This year's WASSCE will begin from 31st July, 2023 and end in September, 2023.
Over 400,000 candidates will sit for the 2023 WASSCE. This is based on the statistics from the previous years. In 2022, a total of 422,819 sat for the examination. This number was a reduction as compared to the 2021 examination year.
Below is the full statistics for the 2022 WASSCE. This statistics is likely to be similar to the 2023 WASSCE
THE WEST AFRICAN EXAMINATIONS COUNCIL, ACCRA
WEST AFRICAN SENIOR SCHOOL CERTIFICATE EXAMINATION,
FOR SCHOOL CANDIDATES
ENTRY FIGURES BY REGION —-2022
S/N
REGION
MALE CANDIDATES
FEMALE CANDIDATES
TOTAL CANDIDATES
1
Greater Accra
19,631
22,266
41,897
2
Eastern
27,911
31,957
59,868
3
Central
22,753
25,724
48,477
4
Western & Western North
13,031
15,454
28,485
5
Ashanti
50,865
53,469
104,334
6
Bono, Ahafo & Bono East
28,289
31,910
60,199
7
Volta & Oti
17,126
16,961
34,087
8
Northern, North East & Savannah
13,115
10,700
23,815
9
Upper East
6,920
6,954
13,874
10
Upper West
4,083
3,700
7,783
GRAND TOTAL
203,724
219,095
422,819
Number of Public Schools: 673
Number of Private Schools: 304
Total Number of Participating Schools : 977

---

Number of Examination Supervisors : 775
Number of Examination Centres : 775
2023 WASSCE TIPS
However, there are some places candidates can get some tips for the 2023 examinations. These places will give candidates about 95% sure questions.
They include;
1. Past Questions
One thing most candidates aren't aware is that WAEC doesn't really set new questions for the WASSCE or BECE. All questions set by WAEC are past questions. For this reason, all candidates who wish to get 'APOR' must take a look at the previous years' past questions. Candidates should solve the last five years' past questions.
READ ALSO: These Core Mathematics Topics And Questions Are Likely To Drop In The 2023 WASSCE
2. Text Books
There are text books for each WASSCE or BECE subject. The test books are designed based on the GES and WASSCE syllabus. All answers to most WASSCE and BECE questions can be found in those text books. This is why candidates must be with their books in this period.
3. Teachers
In these last days, candidates must always be in class to get some tips from their tutors. Teachers have been teaching the subject for a long time and knows the areas WAEC usually concentrate more. They also know how WAEC marks papers. They are the best persons to get your 'APOR' from.
READ ALSO: Pastor Calls Off Wedding After Couple Reveals Sleeping With Each Other Before Marriage