Rescuers Make Direct Contact With Christian Atsu With Thermal Camera; He Is Alive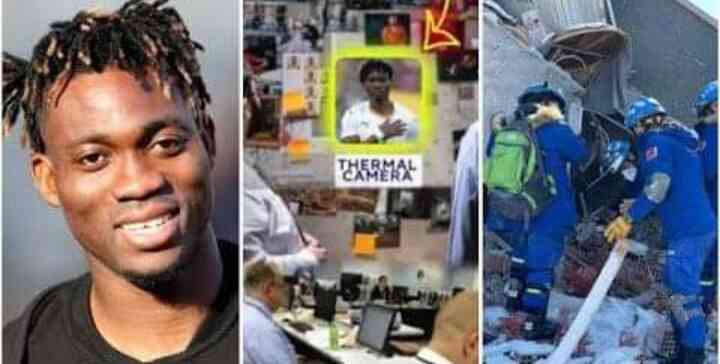 Rescuers Make Direct Contact With Christian Atsu With Thermal Camera; He Is Alive
News coming in indicates that Christian Atsu has been confirmed alive, together with several others after rescuers used Thermal cameras  to make contact with them under the rubble following earthquakes in Turkey.
According to Turkish media firm, Ajansspor, the Hatay Renaissance is very crowded with people. The demolished building housed Christian Atsu, Hatayspor's Sporting Director, Taner Savut, Turkish handball player, Cemal Kütahya and his family.
Rescue efforts are still ongoing to save people under the rubble.
Turkish Sports Journalist, Ekrem Konur reports that the building had 250 flats.
Monday's devastating earthquakes has left over 33,000 dead in Turkey and Syria. President of Turkey, Recep Tayyip Erdoğan has described the earthquakes as "the disaster of the century" after causing great destruction in 10 provinces.
Contractor Who Built Apartment That Collapsed On Christian Atsu Arrested
Christian Atsu trapped under earthquake rubble
On Monday, February 6, 2023, Christian Atsu was reported to have been trapped under earthquake rubble alongside his club Hatayspor's technical director, Taner Savut, following a 7.8 magnitude earthquake that hit south-central Turkey and Syria.
A day later, another story broke that the former Chelsea winger had been pulled out of the debris, but Taner Savut was still missing.
However, the report about Atsu's discovery was later retold after Hatayspor Board Member Mustafa Ozat stated that the information was false and admitted to contributing to misinformation.
The conflicting reports about the player's whereabouts became a major source of concern, prompting his agent, Nana Sechere, to go to the grounds and investigate for himself.
Turkish journalist Yaz Sabuncuolu claims Nana Sechere and his entourage have touched down in Turkey and have been to the place Atsu was staying before the earthquake alongside some friends of Taner Savut.
Also the Turkish police have arrested the contractor who built apartment that collasped on Christian Atsu. The Rönesans Residence was destroyed and killed several persons in the earthquake that hit southeastern Turkey on Monday, February 6, 2023.
Mehmet Yaşar Coşkun, contractor was detained at the Istanbul airport while attempting to leave the country.
The 12-story Rönesans Residence, which has 250 apartments and was completed in 2013 in Hatay's Antakya district, collapsed following the earthquake trapping about a thousand residents including Ghanaian footballer, Christian Atsu.
Some 170 Turkish lawyers filed a joint criminal complaint against the contractors of the building demanding an investigation into its collapse.
The contractor was subsequently detained at the airport on Friday, February 10, 2023, on the orders public prosecutors.
Reports say Yaşar Coşkun at the time of his arrest was leaving the country with his destination being Montenegro.
He was said to be carrying an unspecified cash amount at the time of his arrest.
He was taken to the police station later, where he was interrogated.
Afterwards, he was referred to a court which ordered that he be remanded pending trial.