Research Grants/Scholarship for Doctoral Programmes in Germany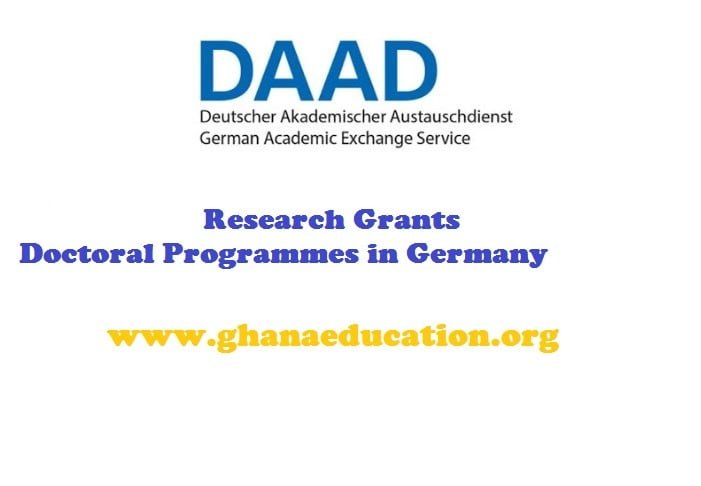 Do you want to study abroad on a research grant for your doctoral programmes in Germany? Keep reading and apply for this amazing opportunity.
Objective of the Research Grants – Doctoral Programmes in Germany
The aim of this grant programme is to support doctoral projects in Germany.
Who can apply?
Excellently-qualified young academics and scientists who have completed a Master's degree or Diplom, or in exceptional cases a Bachelor's degree at the latest by the time they begin their grant-supported research.
What can be funded?
Doctoral programmes at a state or state-recognised institution of higher education or a non-university research institute in Germany:
individual projects under the supervision of a university teacher or academic adviser
or
participation in a structured doctoral study programme
Duration of the funding
a maximum of four years; the length of the grant is decided by a selection committee and depends on the project in question and the applicant's work schedule.
Grants are initially awarded for a maximum of one year. Extensions depend on whether the selection committee considers the previous award period to have been successfully completed.
For doctoral projects in Germany that require several years of research, research phases outside Germany can be supported if these are critical for the successful completion of the doctoral degree. Planned stays must be specified in the application in the work and time schedule and should not exceed a quarter of the anticipated total funding period.
Value of Research Grants/Scholarship for Doctoral Programmes in Germany
Depending on academic level, monthly payments of:
euros 861.- for graduates,
euros 1,200.- for doctoral candidates
Payments towards health, accident and personal liability insurance cover
One-off research allowance
Under certain circumstances, grant holders completing an uninterrupted stay of over 6 months may receive the following additional benefits:
monthly rent subsidy
monthly allowance for accompanying family members
To enable grant holders to improve their language skills in preparation for their stay in Germany, DAAD offers the following services:
Payment of course fees for the online language course "Deutsch-Uni Online (DUO)" (www.deutsch-uni.com) for six months after receipt of the Scholarship Award Letter
if necessary: Language course (2, 4 or 6 months) before the start of the research stay; the DAAD decides whether to fund the grant holder's participation and for how long depending on language skills and project. If a language course scholarship is granted and the working language at the host institute is German, participation is compulsory.
Allowance for a personally chosen German language course during the grant period
Reimbursement of the fees for the TestDaF test which has either been taken in the home country after receipt of the Scholarship Award Letter or in Germany before the end of the funding period
As an alternative to the TestDaF for scholarship holders who have taken a language course beforehand: the fee for a DSH examination taken during the scholarship period may be reimbursed.
Selection
An independent selection committee consisting of specialist scientists reviews applications.
Selection criteria for the Research Grants/Scholarship
Academic Qualification (documented by: university degree certificates, references, list of publications)
Academic achievements and duration of studies
If applicable, academic achievements after graduation (e.g. publications, lectures, conference contributions)
Quality of the research project (documented by: presentation of research project, time plan, references, proof of contacts, if applicable, language certificates):
Quality of research project presentation and preliminary work
Originality, topicality and relevance of project
Reasons for choosing Germany and host institution
Feasibility and consistency of work schedule and time plan (analysis and evaluation steps, if applicable, language skills)
Integration of the project into the overall doctoral project (in terms of content/time), if relevant
Importance of the research project and stay in Germany for academic and professional plans
Additional criteria (documented by: curriculum vitae, if applicable, certificates):
Additional knowledge and skills (e.g. through professional or voluntary activities, further training)
Involvement in academic self-governance, higher education policy issues
Political, social, cultural, family (parental leave or care periods, etc.), social commitment
For further information on the selection procedure, please refer to the Important Scholarship Information / Section E.
Are you ready to apply for the Research Grants/Scholarship for Doctoral Programmes in Germany?
To apply for this scholarship go here >>> DAAD Scholarship 
Check this: Fully Funded ERP Study Scholarships for 1st degree holders in Economics and Business Administration in Germany
Post Publications || Join us on Whatsapp || Post Disclaimer
---
SEND A STORY: Do you have a story for us or need a promotion/advertisement? Submit them via our email admin@ghanaeducation.org
DOWNLOAD OUR>>> MOBILE APP
JOIN OUR EDUCATION NEWS GROUPS (WHATSAPP)
Join one of our Whatsapp/Telegram Groups for current Ghana Education Service News Updates:
JOIN ONLY ONE... THANKS
TELEGRAM PAGE >>> [JOIN]
Group 1 >>New Group> [JOIN]
Group 1 >>New Group> [JOIN]
Group 1 >>New Group> [JOIN]
TELEGRAM PAGE >>> [JOIN]
Only websites that give us a URL backlink can repost our content on their sites.
---
The information contained in this post is for general information purposes only. The information is provided by GhanaEducation.Org and while we endeavour to keep the information up to date and correct, we make no representations or warranties of any kind, express or implied, about the completeness, accuracy, reliability, suitability or availability with respect to the website or the information, products, services, or related graphics contained on the post for any purpose.
||About Us|| Contact Us
---