UPDATED: Where To Buy KNUST Admission Forms 2023/2024?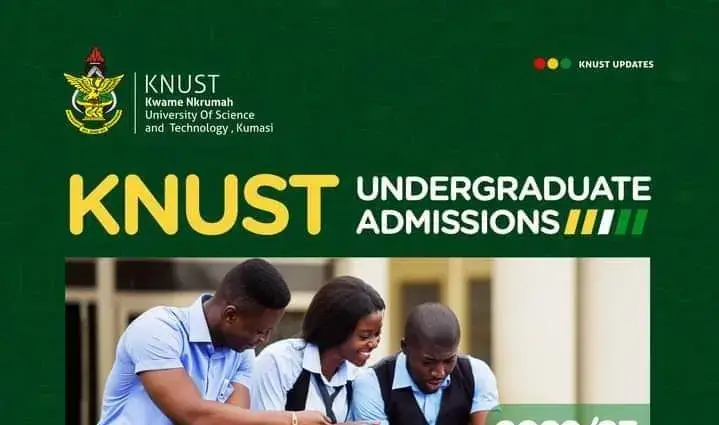 Where to buy KNUST Admission Forms for 2023 and 2024 has been listed below Buy KNUST Admission Forms 2023/2024. The places to buy the 2023/2024 KNUST admission forms have been updated.
The following programs' updated courses and KNUST Cut off Points 2023/2024 should be checked by students who want to graduate from those programs.
You can purchase the KNUST admission forms 2023/2024, also known as the E-voucher, at any Ghana Post regional office or other office that has been authorized by KNUST, as well as any bank.
You will find a special PIN and Serial Number on the E-voucher that must be entered during the online application process on the KNUST admissions portal.
You will also receive the same PIN, ID, or serial number via text message from KNUST. The notice below is direct from the KNUST Registrar, so you should act appropriately in accordance with it.
Only results and/or documents provided by applicants at the time of submission of application shall be considered.
Applicants (excluding awaiting results candidates) shall include in their application forms certified true copies of their results slips and/or certificates.
Applicants shall include a certified true copy of their birth certificate
Applicants shall include one passport size photograph with a light green background, which must be endorsed
An applicant's failure to input examination details (i.e. index number and year of exams) and/ or other relevant information properly online shall deny the applicant admission to a programme of study at the university
Admission to all programmes of study at the university are transparently administered by the central undergraduate admissions board without any other considerations and/ or solicitations.
Any applicant who makes any form of solicitation to any person or group of persons for the purpose of influencing and/or gaining admission into the university does so at his/her own risk.
An applicant who makes a false declaration or withholds relevant information may be refused admission. In the case where a student has enrolled, he/she will be withdrawn and may be prosecuted.
Please take note that the admissions portal will be open for one (1) week following the release of the WAEC results so that applicants can make any necessary changes to their names, index numbers, exam year, and program preferences, among other things.