WhatsApp channels feature will likely be available to almost EVERYONE on 19th September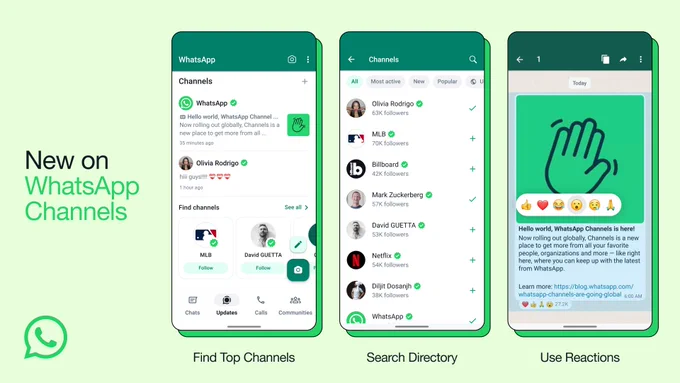 WhatsApp CEO Will Cathcart has just announced that channels will likely be available to almost EVERYONE by the end of tomorrow! 
WhatsApp channels are a new feature that allows businesses, creators, and organizations to send one-to-many messages to their followers. Channels are similar to groups, but only admins can send messages. Followers can react to messages with emojis, but they cannot reply.
Features of WhatsApp channels:
One-to-many communication: Channel admins can send messages to all of their followers at once.
End-to-end encryption: All messages sent through channels are end-to-end encrypted, meaning that only the sender and receiver can read them.
Privacy controls: Channel admins can choose to make their channels public or private. Public channels can be found by anyone, while private channels can only be found by users who have been invited.
Follower reactions: Followers can react to channel messages with emojis.
Searchable directory: There is a searchable directory where users can find channels to follow.
READ: WhatsApp is introducing 4 new amazing features for channels
How to use WhatsApp channels:
Update to the latest version of WhatsApp.
Open WhatsApp and tap on the "Updates" tab at the bottom of the screen.
In the Updates tab, you'll see a list of channels you can follow. To follow a channel, tap the "+" button next to its name.
You can also find channels to follow by searching for them in the directory or by clicking on invite links that have been sent to you.
Once you're following a channel, you'll receive messages from the channel admin in the Updates tab.
To react to a message, press and hold on the message and then tap on the emoji you want to use.
To create a WhatsApp channel:
Open WhatsApp and tap on the "More options" menu (three dots in the top right corner of the screen).
Tap on "New channel."
Enter a name and description for your channel and then tap on "Create."
You can then choose to make your channel public or private.
If you're making your channel public, you can also choose to add a link to your channel in your WhatsApp profile.
Tips for using WhatsApp channels:
Use channels to share updates with your followers about your business, organization, or creative work.
Be sure to post regularly so that your followers stay engaged.
Use high-quality images and videos in your messages.
Interact with your followers by responding to their reactions and comments.
Use channels to build a community around your brand.