2022 FIFA World Cup: Ghanaian hearts to be broken by Uruguay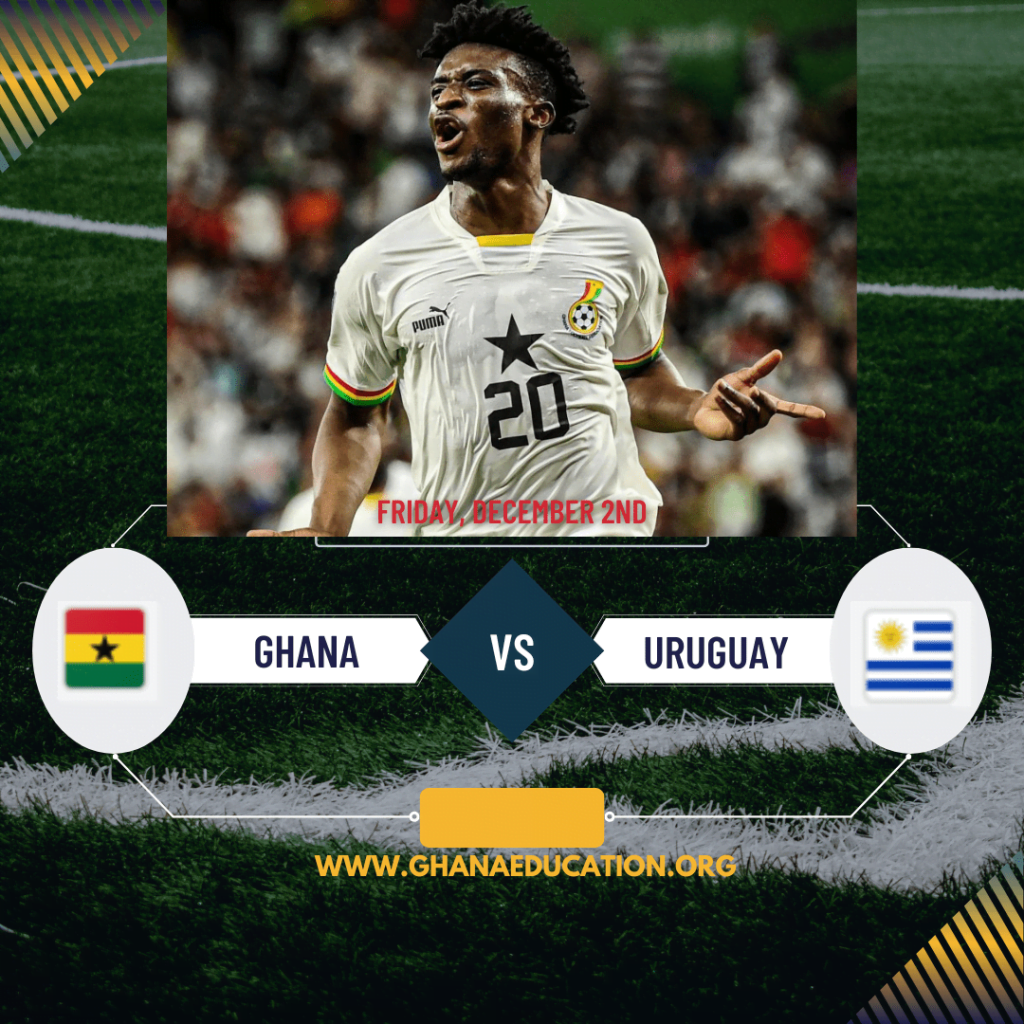 Today, the 2022 FIFA World Cup will come alive when Ghana comes face to face with their nightmare country and player (Uruguay and Suarez) in what has been termed a replay of the 2010 World Cup game. Others have called it the moment of truth, whiles some say it is time Karma pays Uruguay in their own coin.
Ghanaian hearts to be broken by Uruguay due to the ease with Ghana has conceded goals so far at the World Cup. With the team scoring 5 and conceding 5, any team with a good tactics and a better defensive and attacking set up can cause damage to Ghana and that is what Uruguay wants to achieve. Ghana is already being hunted by the 2010 World Cup memories.
The South American nation have not actually been knocked out of a World Cup in the group stage since 2002, which was the first time that it had happened since 1974, so it would be a surprise to see them fail to progress through the first stage of the finals.
All Ghana is looking for is sweet vengeance today as Ghana; men's national team come play Uruguay to battle for the ticket left in Group H for the round of 16 to join Portugal.
Qatar's Al Janoub Stadium will come alive tonight as Atto Addo's men need a win to qualify. A draw will not be good enough unless South Korea are beaten by Portugal by not less than 2 goals and Ghana draws with Uruguay.
Uruguay, the South Americans, are currently last of the group H league table with a point and need a win to secure qualification.
During the pre match interviews, some Ghana fans felt Suarez was the devil itself and are looking forward to retiring him with a win for Ghana. Luis Suárez faced a tough time and questions from some of the media ahead of Uruguay's clash with Ghana.
Many pundits of the beautiful game believe Ghanaian hearts will be broken by Uruguay for a second time. According to soccer predicting websites, Ghana's best performance against Uruguay will be a draw.
Team manager Diego Alonso's side will definitely be eliminated if they lose or draw this match, with only a win being good enough. Three points would be enough to advance if South Korea do not beat Portugal, although if both teams triumph, then second in the group will be decided on goal difference. Ghana has its life and fate in its hands, if they lose, they are out, if they win they are in, and a draw will make it clumsy.
Ghanaian hearts to be broken by Uruguay in their final group H game at the 2022 FIFA World Cup 2022 unless they come to the party prepared to defend well and take their chances.
READ:FIFA to ban Ghana's Mohammed Kudus from playing against Uruguay – Here's why
Ghana vs Uruguay Prediction – We say: Ghana 1-1 Uruguay
Ghana needs a win to comfortably cruise into the round of 16, but Uruguay start as favourite's. Uruguay
This has all of the makings of a very, very interesting game of football, and we are expecting an entertaining contest. Uruguay need to win, but Ghana will fancy their chances of claiming at least a point here, which would definitely be good enough to advance to the next round if South Korea do not overcome Portugal.
Possible Line Up for both teams
Ghana possible starting lineup:
Ati-Zigi; Lamptey, Amartey, Salisu, Mensah; Partey, Samed; Kudus, A Ayew, J Ayew; Williams
Uruguay possible starting lineup:
Rochet; Gimenez, Godin, Coates; Varela, Valverde, Bentancur, Vecino, Olivera; Nunez, Gomez