2023 Accra Food Festival: Date, Venue and More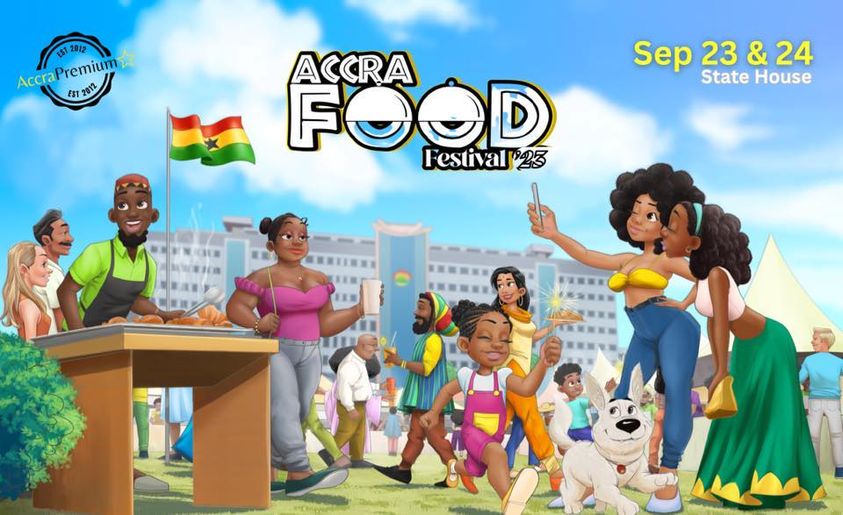 The 2023 Accra Food Festival is scheduled to take place on September 23rd and 24th at the State House in Accra, Ghana. It is a two-day event that will feature a diverse range of food vendors, live musical performances, and cultural demonstrations.
Individuals, tourists, food vendors, and corporate bodies are all invited to the 2023 Accra Food Festival. Let us boost tourism in Ghana via this all-important event.
Come and eat and drink Ghana and beyond from the amazing vendors.
READ: 4 Foods That Can Help You Conceive Twins
2023 Accra Food Festival: Foods and Drinks to expert
Visitors to the festival can expect to enjoy a wide variety of Ghanaian and international cuisines, including:
Jollof rice
Waakye
Fufu
Plantain chips
Kelewele
Banku
Kenkey
Grilled fish and chicken
Salads
Soups
Desserts
And more!
In addition to food, the festival will also feature a number of other activities, such as:
Live music and dance performances
Cooking demonstrations
Food competitions
Cultural exhibitions
And more!
The Accra Food Festival is a great opportunity to experience the rich and diverse culinary scene of Ghana. It is also a fun and family-friendly event that is sure to please everyone.
Getting there
The State House is located in the heart of Accra, making it easy to get to by public transportation or taxi. If you are driving, there is ample parking available at the venue.
Do not get lost. Use your Google map and find your way to the Forecourt of the STATEHOUSE.
Tickets
Tickets for the Accra Food Festival are available online at EgoTickets.com. Admission is free for children under 12 years old. For more information please contact; info@AccraPremium.com. The ticket for the event is a cool GHS50.00 only.
READ: 10 Most Popular Foods From Africa
Tips
Wear comfortable shoes, as you will be doing a lot of walking.
Bring cash, as some vendors may not accept credit cards.
Bring a hat and sunscreen to protect yourself from the sun.
Be prepared to queue for popular vendors.
Most importantly, come with an appetite!
The 10th Accra Food Festival is Back in a BIG way
Get ready to experience new and Old Favorites in a Refreshing new way.
The Accra Food Festival is Saturday 23rd &24th September,2023 at the Forecourt of the STATEHOUSE.