52 Centers!! 2023 Upgraded Version Of NTC Exams Ends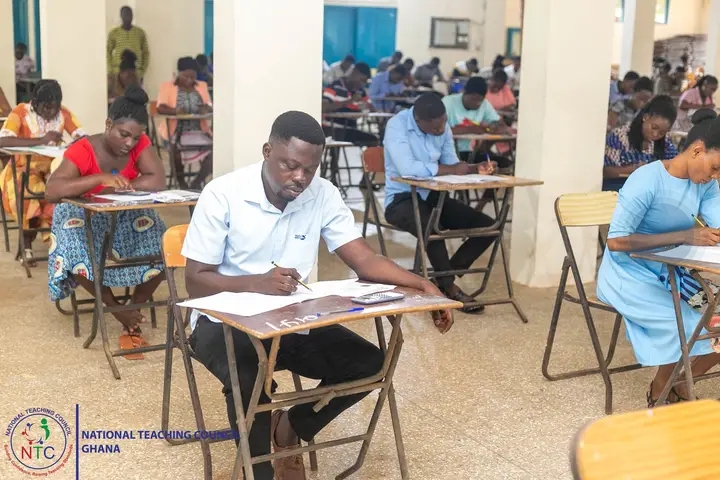 The National Teaching Council (NTC) is one of the key institutions or agencies providing massive input for the country to have well-qualified teachers who will be certified to teach in various schools across Ghana.
According to the regulatory bodies, the National Teaching Council is mandated to organize license examinations for all prospective students who graduated from various Universities and the 46 Teacher Training colleges in the country.  The purpose of this examination is to give an official certificate for the students who were able to obtain the pass mark from the National Teaching Council to be permanent teachers.
As a result of the four-year degree program being run in the various Colleges of Education across the country, the National Teaching Council has also upgraded its examination and the standards of the examinations from the diploma level to the degree level.
The 2023 teacher licensure examination officially commenced on the 13th Day of September 2023 across the country. The 2023 version of the upgraded National Teaching Council Examination lasted for 3 days.
The first paper titled General Professional Knowledge was written on 13th September (Wednesday) 2023. The second paper titled Pedagogy was written on Thursday 14th Day of September 2023. The last paper which happens to be a field of Specialization was also written on the 15th of September (Friday) 2023.
All is said and done and the 2023 Upgraded version of the Ghana Teacher Licensure Examination which was organized and monitored by the National Teaching Council has come to an end.
All candidates will therefore go to their various homes to await the results of their exams for them to be posted next year to the various schools across the country that lack teachers.
One key notice to all candidates is that the pass mark for the Ghana Teacher Licensure Examination hasn't been increased to seventy Percent (70%). The pass mark for the Ghana Teacher Licensure Examination as of the Year 2023 is still fifty percent (50%).
If there is any increment in the pass mark, it will be considered in the years to come. Therefore, all Teacher training candidates for the just-ended Ghana Teacher Licensure Examination should be calm as they await their results Next month.