ABC Steps for Checking 2020 School Placement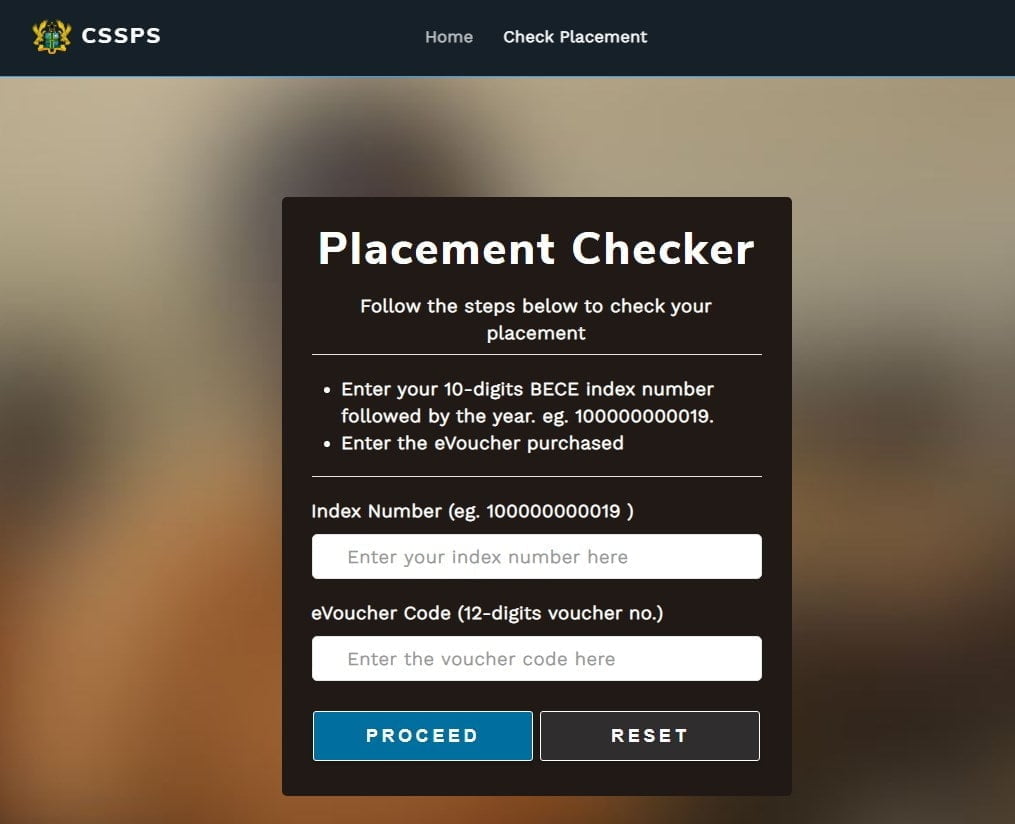 Checking 2020 BECE School Placement just got easier.
Follow our ABC Steps for Checking 2020 School Placement the easy way and avoid mistakes such as keying in the wrong index number, voucher code, and others. 
JOIN OUR WHATSAPP GROUP FOR SUPER FAST UPDATES> [JOIN]
ABC Steps for Checking 2020 School Placement
1. Purchase the school placement card or checker from an accredited seller (The voucher costs GHS5.00 per information reaching us.) This can be bought on the website, post offices, and from authorized vendors.
2. Log onto https://cssps.gov.gh/  or the CSSPS BECE result checker online on PC or phone
3. On the portal, follow the instructions and enter your Index Number (10 digits) for the BECE. Note that if you sat for the examination in 2020, you must type 20 after the last digit of your index number
Eg. Index Number: 010160702
Year:2020
The entry you make in the index number space is the index number and 20 for 2020 candidates, and the index number and 19 for 2019 candidates. For example,  01016070220
3. Now look on your checker card and enter the Serial Number and the PIN (Personal identification number) on the School placement checker/voucher you bought.
4. Cross-check your index number and the year you took the exams and confirm they are correct.
5. Check the voucher entries to be sure you made their right entries
6. Click on the PROCEED button and wait for the database to process your request.
7. When the school placement window pops up and you have been automatically placed, print the placement documents. You would often have three sheets printed for you.
How to do 2020 School Self Placement
FQAs: What is Self Placement in the BECE 2020 School Placement process?
While Checking 2020 School Placement online, candidates parents and guardians must understand what self placement means.
It is an option given to students or candidates who were not automatically placed to now manually choose a school, accommodation type (Day or Boarding), and program for final placement.
If you missed the automatic placement when the BECE 2020 School Placement status pops up, you may be given the chance to do a self placement.
Checking 2020 BECE School Placement and doing the self placement
Click the button to proceed to do self placement.
Choose the region you want to select a school from
Scroll through available schools and select one
Select a programme (for example, General Arts) available that you want to pursue or study
Select accommodation (Day or Boarding). Note that most schools in the self placement database are often day schools.
Upon completing the selections, click submit and wait for it to be processed.
Print out the placement once it is confirmed.
ALSO READ: School Placement for 2020 Expected Today – More details
Remember that those who do BECE 2020 School Placement (Self placement) can make changes later if they want to.
We hope checking the 2020 BECE School Placement was easy.
JOIN OUR WHATSAPP GROUP FOR SUPER FAST UPDATES> [JOIN]
Source: Ghanaeducation.org