All Final Year SHS Students Will Not Go For Mid – Semester Break – Check Out The Notice From GES.
It was just a few days ago that the Ghana Education Service (GES) announced the official mid-semester date vacation for all Senior High School and Senior Technical schools. The notice from the Ghana Education Service confirmed 2nd June to 9th June as the official date for the mid-semester break for the secondary schools.
One of the key things we did not consider from the communique from the Ghana Education Service has to do with the staying back of all the Final year students who will be writing their final year examinations this year (2023).  Even though GES did not make the staying back of the final year students to be compulsory per our knowledge, all headmasters in the various Secondary Schools and technical schools believe in the principle that, last minutes can change a lot of things as far as results are concerned. We are therefore of the greater view that all headmasters will make sure their final year students will not go for the one-week mid-semester examinations.  They will rather prefer to accommodate all their final year students to still impact knowledge into them (students) to make a mark in the examination to be written from 31st July 2023 to September 2023.
Let us take note of the actual statement from Ghana Education Service speaking about the stay back for the final year students.
The management wishes to remind all Heads of Senior High Schools and Senior High Technical schools (SHS/SHTS) of the scheduled mid-semester from 2nd to 9th June 2023. While the break should be observed, individual heads of schools who wish to have Form 3 students remain in school to continue preparing for the upcoming WASSCE are permitted to do so. Additionally, Heads are expected to ensure that they accommodate students who may wish to remain in school during the period.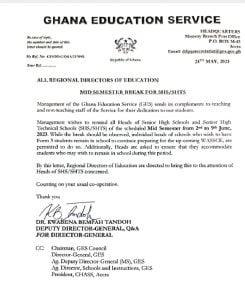 Stay back for final-year students have be a normal phenomenon that is mostly observed in all Second Cycle schools across the country. Therefore,  Final year SHS students will not go home but those who wish to go are eligible to do so.