Asamoah Gyan Shows Strength After 'Encounter' With Freezy Macbones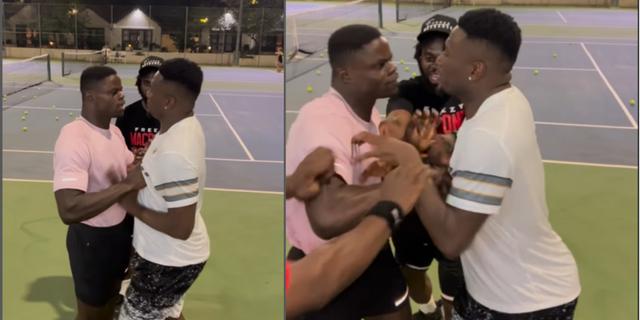 UK-based Ghanaian boxer Freezy Macbones clashed with former Ghanaian footballer, Asamoah Gyan after a tennis training game. The two giants showed their strength against each other.
Seth Gyimah, popularly known as Freezy Macbones came to Ghana in August after he responded to a call from the Ghana Boxing Federation, accepting to represent Ghana in the 2024 Olympic Games qualifiers. He is said to represent the country in the Olympic qualifier games.
In a video shared on Instagram by Gyan, the former footballer is seen jovially squaring off with the boxer, with both being restrained from pouncing on each other amid laughter. This was not a serious fight between the two superstars. It was just an act.
"Who you got here in this face-off? Baby Jet or Freezy Macbones? It's all love," the former Ghana international wrote beneath the video.
READ ALSO: Crick Africa Network Career Acceleration Fellowships for Early-Career Scientists 2024
Boxing star, Freezy Macbones is part of Ghana's national boxing team, the Black Bombers, for the 2024 Olympic Games qualifiers in Dakar, Senegal.
In an interview with the media, the 33-year-old said he wants to inspire the younger generation through boxing.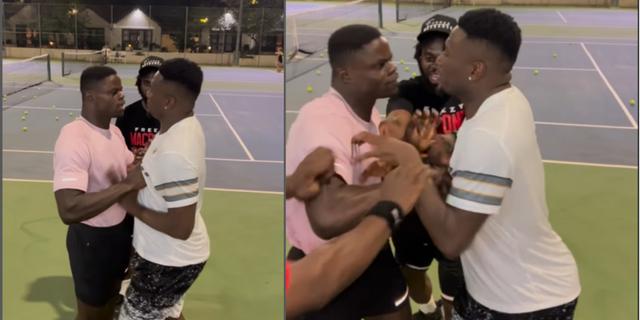 "Growing up, I looked up to athletes who represented their homeland with pride," he told the media after training at the Bukom Boxing Arena.
"Choosing Ghana is my way of giving back and showing the younger generation that they can achieve their dreams, no matter where they come from."
WASSCE 2023: Elective Mathematics Final Projected Topics And Questions
Freezy Macbones used to be a mason in Ghana before moving to the UK, where he has now turned his life around.
His rise has been the archetypal grass-to-grace story and he's been deservedly trending on social media after he roared to victory in just his second professional fight in April against veteran Darryl Sharp.
Watch the video below
https://twitter.com/code_micky/status/1699169792693834204