BECE 2023 Grading System: What Is The Confirmed WAEC Grading System?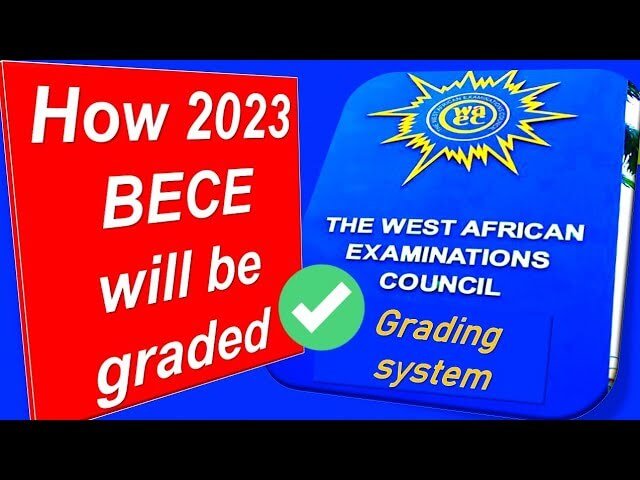 The 2023 BECE started from Monday 7th August to today Friday 11th August 2023. What grading system will WAEC use this year for the BECE candidates? When will the 2023 BECE results be released? When will these BECE JHS graduates go to SHS?
So many questions to ask after the success writing of the BECE for all Junior High school children.
When will the 2023 BECE results be released?
Normally, it takes forty-five (45) days for the results to be released. Forty-five (45) days from now will be Monday 25th September 2023. More regarding this will be shared in the coming days as well.
In this article, I will be sharing with you the grading system that WAEC may use for the 2023 BECE.
Grading System for 2023 BECE
Find below, the WAEC likely grading system.
90-100 : Grade A which is 1 and interprets as Highest
80-89 : Grade B+  which is 2 and interprets as Higher
70-79: Grade B which is 3 and interprets as High
60-69: Grade C+ which is 4 and interprets as High average
55-59: Grade C which is 5 and interprets as Average
50-54: Grade D+ which is 6 and interprets as Low average
40-49: Grade D which is 7 and interprets as Low
35-39: Grade E which is 8 and interprets as Lower
0-34: Grade F which is 9 and interprets as Lowest
The Basic Education Certificate Examination (BECE) is taken by candidates in the final year of Junior high school in Ghana once every year (June/July)
Candidates are advised not to fall prey to scammers who sugar coat their words to trace your papers. It is a total scam, there is nothing like paper tracing right after the exam ends.
Whatever you wrote will be marked pertaining to the answers in the marking scheme from the syllabus you were taught from the entire three years.
Again, there is nothing like paper tracing! Candidates and parents are advised to flee from such scammers. You fall at your own peril.
READ ALSO: Projected Topics For Biology In WASSCE 2023