Black Sherif looks Sleepy Whiles Standing, Video Sparks Reactions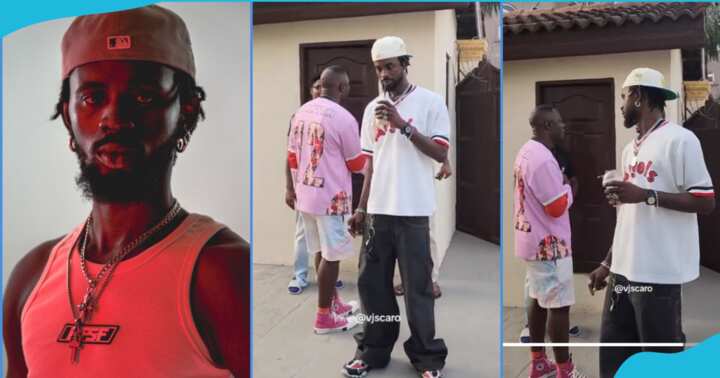 Ghanaian rapper Black Sherif has recently become the center of attention after a TikTok video surfaced, capturing him standing and sipping a smoothie while appearing noticeably drowsy. The footage, which quickly went viral, has sparked a wave of concern among fans who are questioning the musician's well-being.
In the video, Black Sherif is seen moving in what seems like slow motion, with his eyes sporting a dazed expression as he leisurely sips the drink. The peculiar scene has left many fans puzzled and worried about the artist's condition, prompting a flurry of comments on social media.
ALSO READ: NDC Secretary Beaten To Pulp (ghanaeducation.org)
As the TikTok video circulated, a significant number of users flocked to the comment section to share their thoughts and express their concerns. Speculations about the rapper being under the influence of substances began to circulate, fueled by his sluggish movements and the dreamy look in his eyes. This has triggered discussions and debates among netizens, each offering their own interpretation of the video.
While some fans expressed genuine worry for Black Sherif's well-being, others took a more speculative approach, delving into the possible reasons behind the rapper's seemingly altered state. The video has become a topic of conversation, with social media users dissecting every detail in an attempt to unravel the mystery behind the rapper's unusual behavior.
ALSO READ: Black Sherif Loses His Cool After Meeting Asakaa Boys (ghanaeducation.org)
It's important to note that as of now, there is no official statement from Black Sherif or his representatives addressing the concerns raised by fans. The viral TikTok video has, however, reignited the ongoing debate surrounding the impact of social media on celebrities' personal lives, as fans grapple with the blurred lines between public personas and private struggles.
As the online community continues to share their thoughts on Black Sherif's video, it remains to be seen whether the rapper will provide any clarification regarding the incident, or if this will remain a fleeting moment of speculation in the fast-paced world of social media.
Teachers Updates and Credible teacher-focused news – Ghana … (bing.com)