Cecilia Dapaah Evolving Account of Stolen Funds: US$590K Discovered by OSP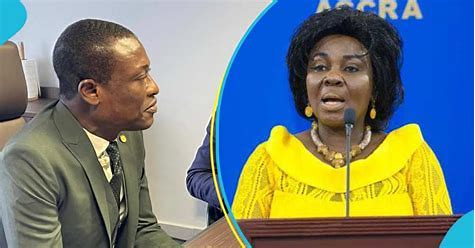 Cecilia Dapaah Evolving Account of Stolen Funds, US$590K Discovered by OSP: In a recent twist to the ongoing legal proceedings involving former sanitation minister Cecilia Dapaah, the Office of the Special Prosecutor (OSP) has revealed a significant reduction in the amount of money allegedly stolen by her house helps. This development came to light through a court filing, and it raises questions about the evolving narrative surrounding the stolen funds.
Initially, the report and court filing against the house helps accused them of stealing a staggering one million dollars, along with thousands of euros and Ghanaian cedis, from Ms. Dapaah's residence in Abelemkpe.
ALSO READ: BoG 'caught' hiding over GH¢711m expenditure on remodelling of offices, guest house – Ablakwa alleges
However, in the OSP's current court filing, it has emerged that Ms. Dapaah has reduced the figure by a substantial US$590,000. This specific sum was discovered at the same premises when the OSP conducted a search in her presence at the facility in July.
According to a TV3 journalist, Ms. Dapaah clarified that the US$590,000 found by the OSP was part of the one million dollars stolen by the eight individuals now standing trial for theft. This reduction in the alleged stolen amount has added complexity to an already intricate legal case.
During the search conducted by the OSP, not only was the US$590,000 found but also a significant sum of GH¢2.8 million in cash. Subsequently, the OSP sought legal action, applying to a High Court to seize these funds and freeze Ms. Dapaah's accounts. The suspicion was that the funds were derived from corrupt proceeds, as the minister could not provide a justifiable source for these substantial amounts of money.
ALSO READ: OSP Uncovers Ownership Deception in Cecilia Dapaah's Skincare Companies
On the core issue of the stolen funds, the OSP stated that there was no concrete evidence regarding the source of the stolen money. The absence of financial records and traces of the money's origin, coupled with the lack of evidence indicating that the sums were lawfully declared or subjected to statutory payments, adds further complexity to the case.
It's worth noting that the OSP initially unfroze Ms. Dapaah's accounts and returned her properties as directed by the court on August 21. However, the office subsequently refroze her accounts and filed the current application, signaling the ongoing legal battles surrounding this matter.
The evolving narrative surrounding the alleged stolen funds and the subsequent legal actions underscore the need for a thorough and transparent investigation to establish the facts and ensure justice is served. As the case continues to unfold, it will be crucial to determine the true source of the funds and the accountability of those involved.
FOLLOW US ON X @ Ghana Education News (@GhanaEducation5) / X (twitter.com)