Delivery Guys Set To Take Delivery To The Air With Jetpack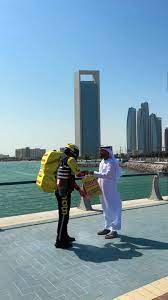 Social media platforms have been abuzz with discussions around a video that has surfaced on TikTok showing  delivery guys from Noon UAE delivering a package via air with jetpack.
This revolutionary new method of package delivery has sparked debates on whether this can work in other parts of the world, especially in Africa where land-based delivery methods are the norm.
According to Noon UAE, they offer air delivery services in Abu Dhabi, Dubai, and other cities in UAE with a delivery time of only fifteen minutes.
The company's innovative approach to package delivery has attracted a lot of attention and praise from customers who are impressed with their efficiency and speed.
Also read; The New Force Sets To Lead Ghana
However, some people are wondering if this new method of delivery will work in Africa, where the delivery infrastructure is still largely underdeveloped, and road networks are often complicated and confusing.
Some people have even made jokes about "noon air delivery branch in Ghana, which uses a broom."
Despite these concerns, many people are excited about the potential of delivery guys services with jetpack in making package delivery faster, more efficient, and more reliable.
The video has sparked a lot of discussion and interest, and many people are waiting to see what other new innovations the delivery industry will bring in the future.
BOOKMARK GHANAEDUCATION.ORG FOR MORE!