Demon Town 's Controversial Video with lover Sparks Debate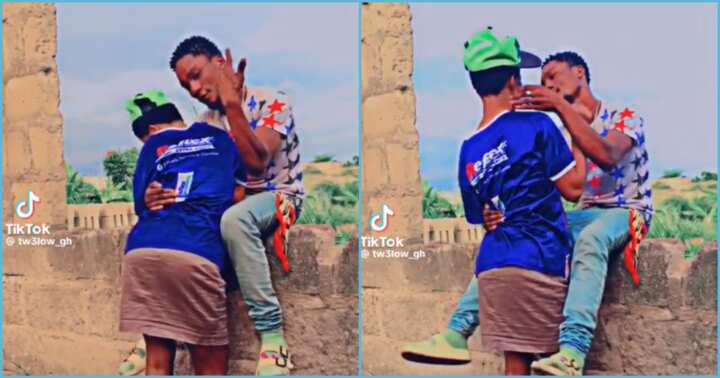 In a shocking turn of events, a video of the infamous Demon Town has surfaced online, leaving social media abuzz with reactions. The young man, previously embroiled in controversy for threatening to rob people of their belongings, is now in the spotlight for an entirely different reason – a video displaying affection with his girlfriend and their baby.
The footage, discovered on the X page of @sergio_de_ennin, depicts Demon Town seemingly enjoying domestic bliss with his partner in the Ashanti Region. Amidst smiles, the controversial figure is seen interacting playfully with a baby presumed to be his own.
ALSO READ: KNUST First-Class Graduate Sparks Controversy with Professorial Snub at Graduation (ghanaeducation.org)
This unexpected shift in tone comes on the heels of Demon Town's recent arrest following his publicized intention to commit criminal acts alongside an unidentified accomplice. The video, which surfaced not long ago, showed the duo openly threatening to attack individuals for their possessions, causing widespread concern among the public.
The contrast between the criminal threat video and the newfound family-oriented footage has left netizens perplexed, with many taking to social media to share their diverse opinions. Some express disbelief at the sudden change in demeanor, questioning the authenticity of Demon Town 's actions, while others argue that individuals can have multifaceted lives with both positive and negative aspects.
ALSO READ: The New Force movement: Sam Ankrah is not the face behind the mask (ghanaeducation.org)
Authorities in the Ashanti Region are closely monitoring the situation, acknowledging the public's concern over the conflicting images portrayed by Demon Town. Law enforcement agencies are investigating both the criminal threats and the recent family-oriented video to determine the true nature of the individual's character.
As the controversy unfolds, the Demon Town saga continues to captivate the online community, prompting a broader discussion about the complexities of human behavior and the challenges of interpreting individuals' actions in the age of social media.
Teachers Updates and Credible teacher-focused news – Ghana … (bing.com)