Dr Bawumia cuts sod for building of 32 TVET Institutions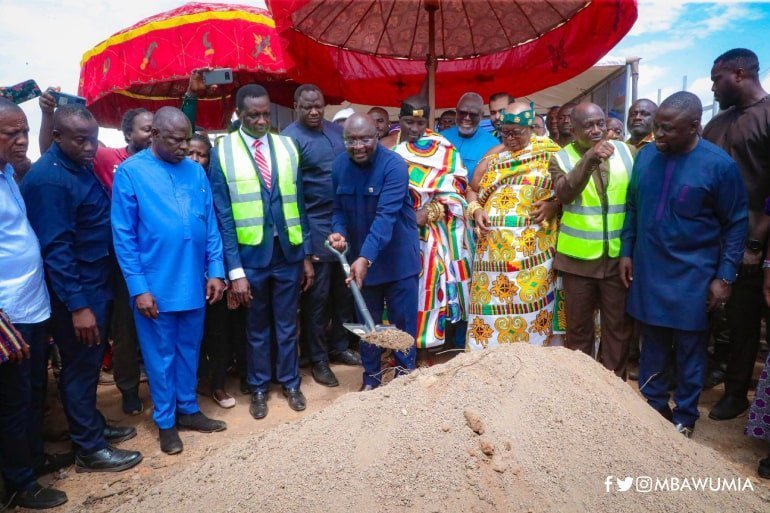 Dr Bawumia cuts sod for the building of 32 TVET Institutions
Dr Mahamudu Bawumia, the Vice-President of the Republic Monday, June 6, 2022 cut sod for work to begin on the construction of the 32 Technical and Vocational Education and Training (TVET) institutions across the country.
In his address at the sod-cutting ceremony at Abrankese in the Ashanti Region, Dr Bawumia said the move forms part of the government's effort to make Ghana a world-class centre for skills development and also make skills acquisition.
When completed, each region will have two modern centres to increase access to TVET education, as well as provide opportunities for skills acquisition and upgrading for practising artisans in order to meet the development needs.
The project, the Vice also said is expected to equip the youth with entrepreneurship skills; adopt the cooperative approach to skills training for the youth to create their own jobs; retrain current workers who have skill gaps.
"At the start of our administration in 2017, Akufo-Addo set out a clear plan to industrialize Ghana and one of the key pillars of that agenda is to revamp and modernize TVET so that it becomes responsive to the needs of industry," he noted.
President Nana Addo Dankwa Akufo-Addo's right-hand man at the event also said the TVET project will comprise the establishment of One (1) TVET Centre of Excellence, 16 Category A Centres and 15 Category B Centres.
"All these institutions will be provided with a variety of infrastructure which ranges from administration blocks, accommodation facilities, common areas, playing grounds, furniture, fittings and external works, tools and equipment for workshops, and ICT," he stated.
READ: 2022 nursing training interview dates out [Check It Out]
The nine facilities to be constructed under Phase One include a Centre of Excellence at Abrankese (Ashanti region); six 'Category A' facilities to be located at Boako (Western North), Kenyasi (Ahafo), Patuda (Bono East), Dambai (Oti), Salaga (Savannah), and Guabuliga (North East); and two Category B facilities at Akyem Awisa (Eastern) and Tolibri (Upper West).
"The President's goal is to make Ghana a world-class centre for skills development and a leading country in TVET delivery in Africa and also make skills acquisition aspirational for all Ghanaians," Mr Mahamudu said on Monday.
Source: Educationweb.com.gh
Post Publications || Join us on Whatsapp || Post Disclaimer
---
SEND A STORY: Do you have a story for us or need a promotion/advertisement? Submit them via our email [email protected]
DOWNLOAD OUR>>> MOBILE APP
Facebook  Group> [JOIN Facebook]
JOIN OUR EDUCATION NEWS-GROUP (WHATSAPP)
Join just one of our Whatsapp/Telegram Groups for current Ghana Education Service News Updates:
JOIN ONLY ONE... THANKS
TELEGRAM PAGE >>> [JOIN]
Group 1 >>New Group> [JOIN]
Group 2 >>New Group> [JOIN]
Group 2 >>New Group> [JOIN]
Facebook  Group> [JOIN Facebook]
TELEGRAM PAGE >>> [JOIN]
Only websites that give us a URL backlink can repost our content on their sites.
---
The information contained in this post is for general information purposes only. The information is provided by GhanaEducation.Org and while we endeavour to keep the information up to date and correct, we make no representations or warranties of any kind, express or implied, about the completeness, accuracy, reliability, suitability or availability with respect to the website or the information, products, services, or related graphics contained on the post for any purpose.
||About Us|| Contact Us
---