Economic challenges: Only NPP can save Ghana – Nana Addo
President Nana Addo Dankwa Akufo-Addo has said that the government party, the New Patriotic Party (NPP), is better able to help solve economic problems and bring the economy back to health.
He said that the problems the country is facing are caused by the current global economic crisis and that this government is not to blame.
On Tuesday, October 18, at the launch of the new NPP membership card in Kumasi, he said that only the NPP government can get the country out of its current economic problems.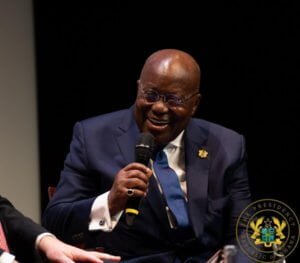 READ ALSO: Trouble As New GES Director-General, Dr. Eric Nkansah Rejected By NAGRAT; Shocking Details Drop
As the economy got worse, he worked to get people to back the government.
President Akufo-Addo also asked people who aren't in the NPP to join and make it stronger so it can beat the main opposition party, the National Democratic Congress, again.
He said that the NPP will "break the eight," which will surprise people who don't believe it.