BECE exams malpractice: Candidates FORCED to write exams barefooted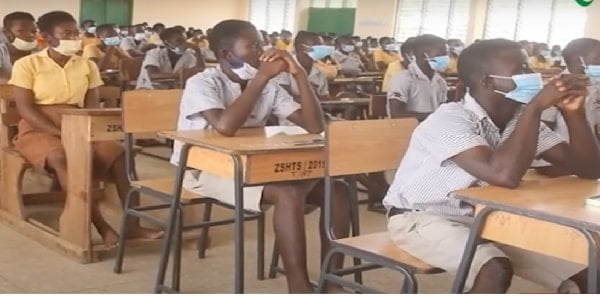 Ghana Education News Update: BECE candidates forced to write exams barefooted to prevent exams malpractice.
The West African Examination Council (WAEC) has a lot of explanations to make to the people of Ghana for forcing 2014 BECE candidates to write their exams barefooted to prevent exams malpractice. This old-fashioned and unscientific approach to ensuring compliance in the ongoing WAEC administered BECE is wrong.
The unfortunate strategy towards preventing examination malpractice took place in Bawku District in the Upper East Region where some 1845 candidates were taking the 2021 BECE papers. According to information available to Ghanaeducation.org, candidates were put under duress which coerced them into doing something (removing their shoes and stocks) which was against their will.
One officer at the District, Mr. Timothy Nasal indicated that the directive was to ensure no form of examination malpractice is allowed. According to him, their investigations and searches showed that some candidates hide foreign materials in their shoes which they end up taking into the examination halls.
The West African Examination Council while putting measures in place to prevent any form of malpractice.
It must also ensure that the students are not maltreated. Forcing students to write the examination barefooted may help minimize malpractices however such students may also opt for other ways of sneaking in such materials.
Applying the punitive measures and actions to be taken when a student is caught with foreign materials during the examination can be a better deterrent for like-minded persons rather than this approach.
One question that needs to be answered is this if students are hiding the same examination materials in their uniforms in a special way and this is detected what happens to their uniforms? Let us innovate and use unquestionable methods for dealing with examination malpractices. This approach is totally unacceptable. 
READ: 90% of 2021 BECE candidates will get school placement – CSSPS
Students also need to avoid the temptation of cheating and their teachers and parents must do more to educate their candidates on the risks they face should they be caught.
In related news, 12 Teachers have been arrested over 2021 BECE malpractice on day one for the ongoing 2021 BECE.
 Source: Ghanaeducation.org
Post Publications || Join us on Whatsapp || Post Disclaimer
---
SEND A STORY: Do you have a story for us or need a promotion/advertisement? Submit them via our email admin@ghanaeducation.org
DOWNLOAD OUR>>> MOBILE APP
JOIN OUR EDUCATION NEWS-GROUP (WHATSAPP)
Join one of our Whatsapp/Telegram Groups for current Ghana Education Service News Updates:
JOIN ONLY ONE... THANKS
TELEGRAM PAGE >>> [JOIN]
Group 1 >>New Group> [JOIN]
Group 2 >>New Group> [JOIN]
TELEGRAM PAGE >>> [JOIN]
Only websites that give us a URL backlink can repost our content on their sites.
---
The information contained in this post is for general information purposes only. The information is provided by GhanaEducation.Org and while we endeavour to keep the information up to date and correct, we make no representations or warranties of any kind, express or implied, about the completeness, accuracy, reliability, suitability or availability with respect to the website or the information, products, services, or related graphics contained on the post for any purpose.
||About Us|| Contact Us
---