SHS 1 Integrated Science: Introduction to Science questions & answers 2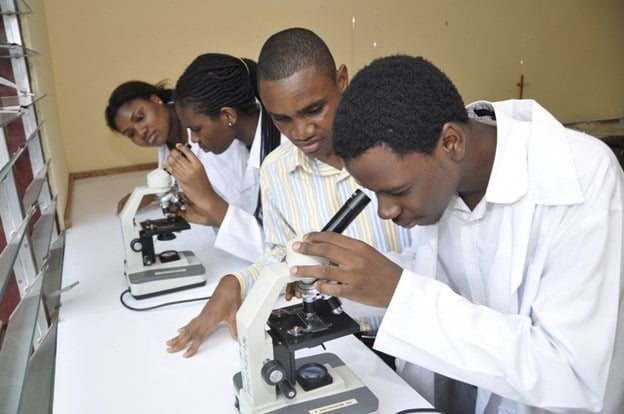 This lesson contains WASSCE S.H.S 1 INTRODUCTION TO SCIENCE knowledge. We encourage those in SHS1, SHS, and SHS 3 to read through as lessons and or revisions.
Introduction to Science questions and answers sec 1
Give three examples of technologies …food technology, information communication technology, nuclear technology, biotechnology, etc
Give four examples of science careers

…engineering, medicine, pharmacy, nursing, geologist, science teacher, chemist, biologist, etc

A body of techniques for investigating phenomena and acquiring new knowledge, as well as for correcting and integrating previous knowledge, is known as

… scientific method.

The approach for acquiring knowledge in natural science is called

.. scientific method.

What method do scientists use in their research as well as to acquire knowledge

…scientific method.

An educated guess about how things work is known as

…hypothesis

List the scientific method

….ask a question, do background research, construct a hypothesis, test your hypothesis by doing experiment, analyze your data and draw conclusion, communicate your result. 

State two importance of the scientific method
a. The scientific method provides us with the knowledge that can be verified.
b. It provides a logical procedure for gaining knowledge.
Introduction to Science questions and answers section 2
Do not smell (an unknown) gas with the nose very close to the test tube containing the gas in the laboratory because

….. the unknown gas could be poisonous or harmful to the body.

Do not add water to concentrated mineral acids in the laboratory because

…. it may generate heat or explosion which can be harmful.

Do not wear rubber slippers in the laboratory because… because

… one could slip off and cause breakage or harm him or herself.

do not wash the hands with an unknown colorless liquid in any container because

… it the liquid may be corrosive and burn the hand.

Do not open a gas tap before looking for a match to light the Bunsen burner because

…the gas will leak into the surrounding air and lighting a match afterward will cause the gas to inflame or fire outbreak.

Do not drop a large piece of sodium metal into the water

… because sodium metal reacts with water to form sodium hydroxide which is corrosive and may cause burns.

do walk barefooted in the laboratory because

… walking barefooted in the laboratory exposes one to the risk of stepping on splashed chemical or a fallen pin or pointed object which can harm them.

Do not chew or eat some food substance in the laboratory because

…some chemicals in the laboratory might be poisonous which will contaminate the food being eaten.

Close all taps before leaving the laboratory because

…the laboratory will be flooded or filled with flammable gas if the taps are left on overnight.

Spilled water must be cleaned immediately so as to prevent…slipping.
Read: Introduction to Science questions and answers
We hope this Introduction to Science questions and answers from SHS 1 Integrated Science curriculum was helpful.
Please follow and like us:
Post Publications || Join us on Whatsapp || Post Disclaimer
---
SEND A STORY: Do you have a story for us or need a promotion/advertisement? Submit them via our email [email protected]
DOWNLOAD OUR>>> MOBILE APP
JOIN OUR EDUCATION NEW GROUPS (WHATSAPP)
Join one of our Whatsapp/Telegram Groups for current Ghana Education Service News Updates:
JOIN ONLY ONE... THANKS
TELEGRAM PAGE >>> [JOIN]
Group 1 >>New Group> [JOIN]
Group 6 >>New Group> [JOIN]
Group 3 >>New Group> [JOIN]
TELEGRAM PAGE >>> [JOIN]
Only websites that give us a URL backlink can repost our content on their sites.
---
The information contained in this post is for general information purposes only. The information is provided by GhanaEducation.Org and while we endeavour to keep the information up to date and correct, we make no representations or warranties of any kind, express or implied, about the completeness, accuracy, reliability, suitability or availability with respect to the website or the information, products, services, or related graphics contained on the post for any purpose.
||About Us|| Contact Us
---