Expressionism Art of First Lady Mrs. Rebecca Akufo-Addo by Maame Yaa Adutwum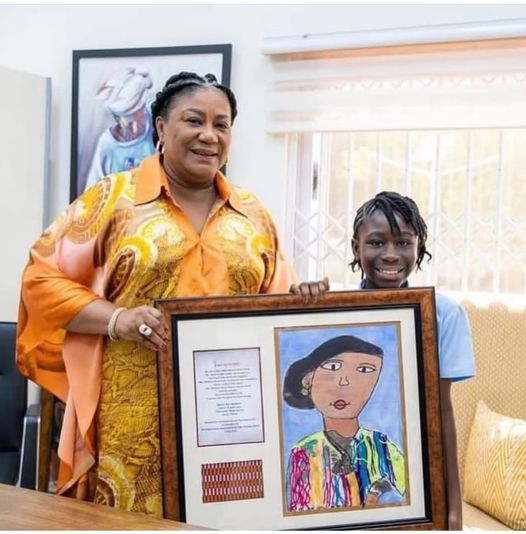 Call it #ExpressionismArt or #FirstLadyArtChallenge and you will not be far from being right.  The Expressionism Art by Maame Yaa Adutwum has received a lot of commendation, reactions, and divergent views since photos of her artwork hit the internet when it was presented to the First Lady Mrs. Rebecca Akufo-Addo.
What is the definition of expressionism in art? Expressionism refers to art in which the image of reality is distorted in order to make it expressive of the artist's inner feelings or ideas.
Her Expressionism artwork featured a portrait of First Lady Mrs. Rebecca Akufo-Addo which was one of the artworks from Ghana for the UK Independent Association of Prep School (IAPS) Art Competition in May 2022.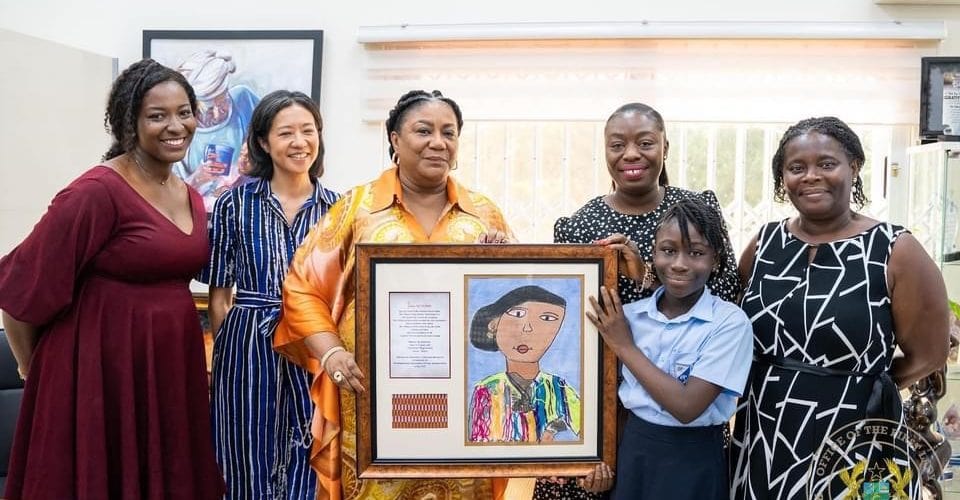 The artwork was under them, "My Role Model" participants who took part in the 2022  edition were asked to create a portrait of someone who inspires and motivates them, someone they admire, and someone they would like to emulate when they grow up.
Maame Yaa Adutwum (Class 4 – Age 9), a pupil of Roman Ridge School, was one of the participants in this year's competition. She chose to draw Ghana's First Lady Her Excellency Rebecca Akufo-Addo as her role model for the competition.
Her choice was a result of the First lady's positive impact she continues to have on the youth of Ghana.
READ: Be optimistic in tough times and during new starts for pessimists don't win
According to a publication by the Roman Ridge School sighted by Ghana Education News, "Maame Yaa's artwork showed originality and creative use of a variety of media, which was encapsulated by the authenticity and sincerity of her message."
Join the Ghana Education News #FirstLadyArtChallenge
If you are a pupil not older than 12 or you know a pupil who is capable of drawing a look-alike artwork of the First Lady, Mrs. Rebecca Akufo-Addo then let him or her join the Ghana Education News #FirstLadyArtChallenge.
We have an amazing reward from Ghanaeducation.org for the best three artworks.
The artwork should be submitted through the CHALLENGE SUBMISSION LINK with the name of the young artists, the school name, and the name of the pupil's creative art teacher.
Explain briefly what the artwork is about and what inspired you to the first lady. Check more details about this competition here [MORE DETAILS]
Entries should be sent no later than 30th June 2022.
We are looking forward to some amazing artworks from the young minds across Ghana.
Source: Ghanaeducation.org
Post Publications || Join us on Whatsapp || Post Disclaimer
---
SEND A STORY: Do you have a story for us or need a promotion/advertisement? Submit them via our email [email protected]
DOWNLOAD OUR>>> MOBILE APP
Facebook  Group> [JOIN Facebook]
JOIN OUR EDUCATION NEWS-GROUP (WHATSAPP)
Join just one of our Whatsapp/Telegram Groups for current Ghana Education Service News Updates:
JOIN ONLY ONE... THANKS
TELEGRAM PAGE >>> [JOIN]
Group 1 >>New Group> [JOIN]
Group 2 >>New Group> [JOIN]
Group 2 >>New Group> [JOIN]
Facebook  Group> [JOIN Facebook]
TELEGRAM PAGE >>> [JOIN]
Only websites that give us a URL backlink can repost our content on their sites.
---
The information contained in this post is for general information purposes only. The information is provided by GhanaEducation.Org and while we endeavour to keep the information up to date and correct, we make no representations or warranties of any kind, express or implied, about the completeness, accuracy, reliability, suitability or availability with respect to the website or the information, products, services, or related graphics contained on the post for any purpose.
||About Us|| Contact Us
---