Feel like giving up on Life? Open this!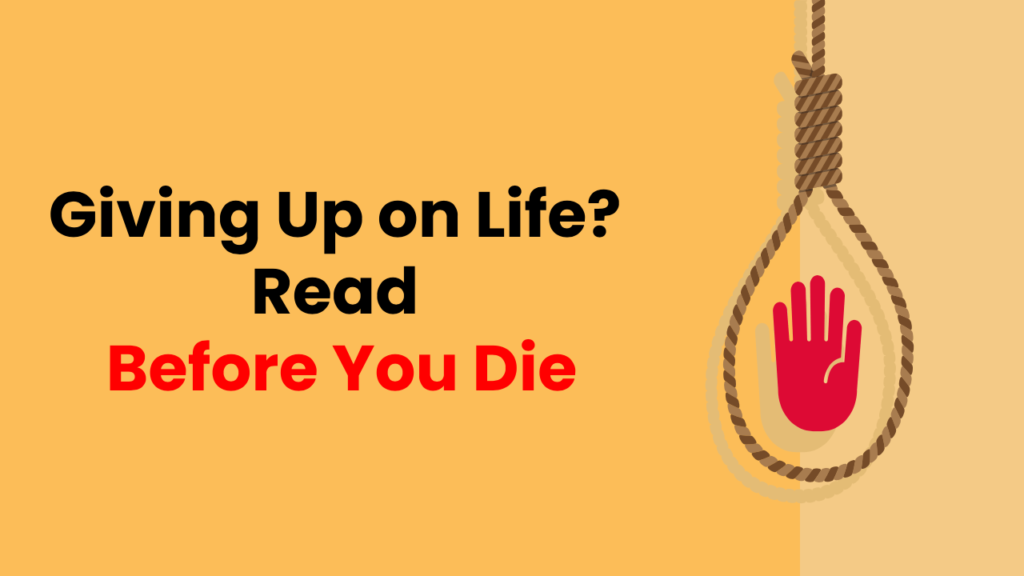 Feel like giving up on Life? Open this! …Life is not a competition and understanding this will save you from unnecessary headaches and help you prepare better for your own future rather than measuring your success with how well others are doing in life! Everyone has a different path to follow, know this and know peace! 
What is your purpose? What were you born to achieve, what are your dreams, what are your aspirations, what are you good at, what comes to you naturally without struggle, what can you do without prior preparation, and what makes you happy? All these are valid questions to be asked 
After identifying your purpose then its time to set goals that are time bound, they have to be SMART; specific, measurable, achievable, realistic and time defined because a goal without a plan is basically a wish and if wishes were horses even beggars will ride. Define your Goals 
Feel like giving up on Life? Open this! …Common mistakes in life is comparing yourself to a friend, a colleague or even a sibling. We all vary in our talents and gifting which means that even though we might have the same education, opportunities come to us at different times in life, and the ability to seize the moment 
Most people are mediocre in this world and wonder how they grow up to not amount to anything. You have to be intentional in life about your growth and development. Rome was not built in a day if it was we would use the same contractors! While you sleep and wish for success 
Someone out there is learning new skills, studying a book, outlining steps for their next phase of life, making connections, upgrading their technical know-how, volunteering with NGOs, working for free, and serving others just to gain mastery. Your life is an Investment, patronize you 
Prioritize yourself over others; put you first because when push comes to shove, nobody will stick their credibility except they know you are worth the effort. Comfort zone is where many dreams have died, don't be afraid to take the next step in life; NO is also an answer! 
Make new friends; your circle might determine what you achieve in life. Don't be afraid to ask for help, rejection is part of the process to gain mastery! Remember nobody ever celebrates the process, only the end justifies the means. Failing forward isn't failure, it's success 
Feel like giving up on Life? Open this! … Have a mentor in life, either in your career or in your daily life; strive to be better than that role model, it gives you a bar to measure yourself against and a benchmark for your progress. Remember that little boy/girl looking up to you whenever you feel like giving up 
Start small, Grow big! The issue is not how you start, the idea is to not remain there forever. Challenge the status quo reasonably and never back down from an opportunity to excel, Talent is good but Practice makes the difference. The world is your stage, seize every moment 
Do not let anyone set boundaries for you, the only one who can stop you from reaching your dreams is YOU! There are no shortage of jobs in this world, there is only just a shortage of information. What you don't know can end you and what you know can make you. Don't be afraid 
Don't be too proud to start again; those who matter don't care, and those who care don't matter! Not everyone loves you in this world but remember to leverage relationships and friendships. You shouldn't pay for everything with Money, relationships should pay for things in life! 
Take counsel but be smart enough to filter what you need and discard the rest; when wealth increases don't change your lifestyle; save up the difference in income! Understand that nobody is ignoring you, everyone is just trying to make a better life for themselves. 
Finally, don't keep quiet in the places where your voice needs to be heard and don't talk where you need to be silent! Trust in God and believe in yourself because you will need them both on the days you find yourself alone! Remember to smile, someone has it worse than you 🙂 
Keep a souvenir from the days of your humble beginning so it serves as a reminder of where you used to be but more importantly, it creates empathy in you for those who are still in their struggling stage. Never judge or criticize someone you haven't walked in their shoes! 
God grant me the ability to change the things I can, the serenity to accept the things I cannot change and the Wisdom to know the difference! God help me to Major in the Major and Minor in the Minor. Be kind to everyone around you, and live your life like today is your last. 
Feel like giving up on Life? Open this!
[wp-rss-aggregator]