Flashback: Kayayo scores 6 As and 2Bs in WASSCE, needs help to be a nurse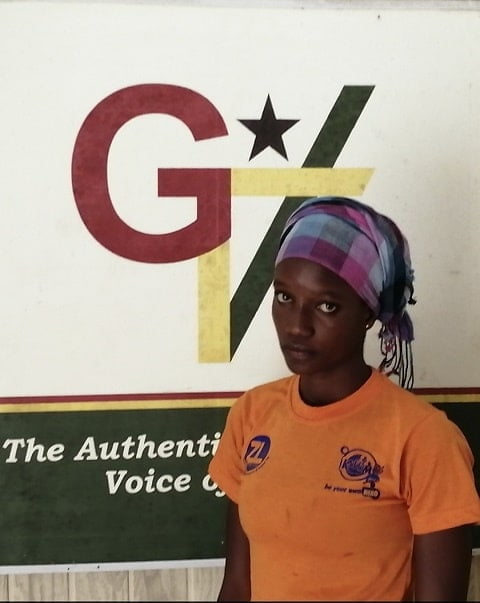 In 2019, human rights activist Joseph Kobla Wemakor's human-centered story "Kayayo scores 6 As, 2Bs in WASSCE, needs help to be a nurse" touched many hearts home and abroad as this piece of writing to seek support for then a head porter (Kayayo) went viral. The Human Rights Reporters Ghana was birthed out of this work by Joseph Wemakor.
Up to date, there are still many that continue to doubt in their minds the versatility and brain power of the Kayayo who smashed the WASSCE. Some even decided to fight and doubt the grade 6 As and 2Bs to date, but the facts are there to prove it.
READ: Mentally Derailed "Mad Woman" Gives Birth To Twins
Abudu Salah, 22, a Kayayo sat the 2019 WASSCE as a school candidate at Ken Hammer Senior High Technical School (KENHASS) in Goaso, a community located in the Brong Ahafo Region, and made shocking grades, but poverty stood in her way to achieving her dream of becoming as a nurse.
Her admission and enrolment into SHS were paid out of her personal savings from the hectic Kaya Kaya jobs she did over the years. According to her, her mum also gave her some support to obtain the full funding for her SHS education.
Her dream was to become useful to society and off the street into a meaningful job and service to mankind. The young with her mind and eyes focused on independence from poverty through the power of education enrolled into SHS against all the odds poverty and torture she had endured.
Haven gained admission to Ken Hammer Senior High Technical School (KENHASS), she dedicated herself to her books and nothing else, knowing where she was coming from and where she wants to be.
When she sat for the WASSCE in 2018, it was no surprise to the school that she achieve an enviable result as the second overall West African Senior Schools Certificate Examinations (WASSCE) in 2018.
Read: Halle Bailey: Black actress receives racist review for starring in 'The Little Mermaid'
Her dedication, focus, and dexterity are not common to many who find themselves in her state as head porters, not even SHS students who have everything at home from the food to eat and a place to lay their heads.
Until her great show of knowledge and intelligence, Ghana was never been blessed with a Kayayo with admirable academic prowess as an achievement nor demonstrated utmost discipline, commitment, and dint of hard work.
Salah got enviable offers and scholarships home and abroad to study medicine instead of nursing, given the kind of results she produced in the 2018 WASSCE.
READ: SHS Diploma that can't secure jobs; Social Media Users Mock MoE over New Education Policy
The brilliant young lady who hails from Mamprugo, in Northern Region where poverty is a dangerous enemy to success for many decided to move southwards to seek a better life. The brilliant Abudu Salah was also a peer educator on Ending Child Marriage, a programme that was the brainchild of Purim African Youth Development Platform (PAYDP) and supported by UNFPA.
In an interview with human rights activist Joseph Kobla Wemakor in 2019 after the release of the results, Salah revealed that she lost her father at a time when there was no Free SHS and her mum was the only one she could rely on for support.  Things got worse since she had a junior sister who also needed to be taken care of.
READ: Mentally Derailed "Mad Woman" Gives Birth To Twins
"I lost my dad while in SHS at the time government has not introduced the Free Senior High School education [and] when my mom was the only one taking care of my junior sister and I. "Payment of school fees was a problem at that time, so I had to travel from the north all the way down to Accra to work and get a little money, send it back to my mom for her to top it up then I took it to school.  I was doing that till I completed SHS." She indicated during the interview in 2019.
The turning point in the life of Abudu Salah was when she accepted a full scholarship offered by the Venezuelan government to study medicine at one of the top Universities in Venezuela.
The long and short of it all is that the work of human rights activist, Joseph Kobla Wemakor is yielding positive results, changing the life of Ms. Salah and many other ordinary, disadvantaged, and vulnerable people in our society.