GES Director-General Engages Stakeholders in Flood-Affected Volta Region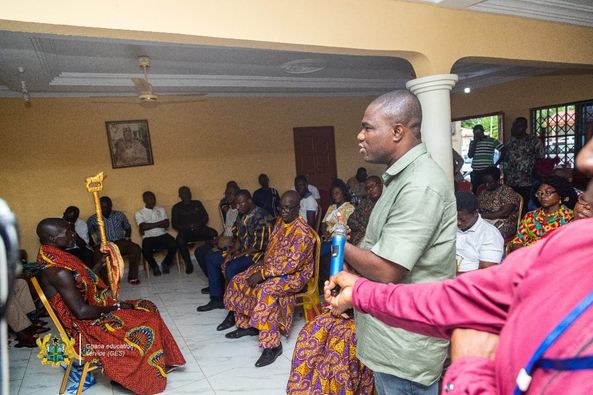 GES Director-General Engages Stakeholders in Flood-Affected Volta Region
The implementation of the continuing GES Education in Emergency Plan
Appraising the progress that has been done up to that point
Identifying grey areas for future action
Ensuring that students are able to return to the classroom
Gratitude to all development partners and stakeholders who have contributed
As part of the Director-General's working visit to the Volta Region, he met with various stakeholders in the areas that were hit the hardest.
These stakeholders included the traditional leaders of the Mepe Traditional Area and the Fieve Traditional Area, as well as the District Chief Executive (DCE) for North Tongu, Mr. Divine Osborne Fenu, the Member of Parliament (MP) for North Tongu, Hon. Okudjeto Ablakwa, and the District Director of Education, Mrs.
They addressed, among other things, the implementation of the continuing GES Education in Emergency Plan, appraised the progress that had been done up to that point, and identified grey areas for future action.
In addition, there was a representative sample of directors from the organization's headquarters present. These included directors responsible for administration, guidance and counselling, planning and procurement, special education, girl child education, early childhood education, and the director for partnerships and affiliations.
GES would like to express its gratitude to all of the development partners and stakeholders who have contributed to ensuring that our students are able to return to the classroom.
GES Director-General Engages Stakeholders in Flood-Affected Volta Region: Five key issues raised in the post
The implementation of the continuing GES Education in Emergency Plan
Appraising the progress that has been made.
Identifying grey areas for future action
Ensuring that students are able to return to the classroom
GES's gratitude to all development partners and stakeholders who have contributed