Good News: Newly Promoted Teachers To Receive Full Arrears; Check Out The Month It Will Take Effect.
Three Months Arrears For Promoted Teachers
There is a popular saying that, all professionals can boast but teachers taught them all. This is to imply that the teaching profession is the best and the most fundamental that all professions in the country can boast about. The newly promoted teachers are to receive all their arrears.
There are a lot of benefits that one is entitled to when he or she becomes a teacher. Just like other professions in the country,  there are promotional ranks in the Ghana Education Service (GES) as well. Teachers are always encouraged to speed up their courses in other to have fast promotion in their teaching field.  The good aspect of the whole thing is that, the higher a teacher goes in the profession's promotional ranks, the higher his or her salary.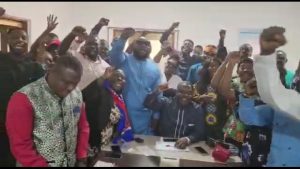 Aside from the increment in salaries and yearly bonuses, the qualification of a teacher based on his or her rank, will determine the position he or she will be given under the Ghana Education Service. Some of these positions include Headmaster/Headmistress, Circuit Supervisors (SISO),  Regional Directors, District Director, and many others.
About a year ago,  some teacher were due for promotion and others also furthered their education which required them to be promoted. On the same hand, others have sat for the GES (Ghana Education Service) Promotional Examinations. With these, they are entitled to receive their salaries which must align with their promoted ranks. That is, the rank of a teacher will determine his or her salary.
The recent update we have received confirmed that all teachers who have been newly promoted are expected to be validated by their school's validators so that they can receive their arrears about their promotion to their new ranks.
However,  the specified ranks are those who have been recently promoted to PS rank and that of AD1 rank. The promoted teachers are to receive all their arrears from the Government of Ghana starting from the month of June 2023.
There are various ranks in the Ghana Education Service. The PS ranks simply imply,  Principal superintendent,  and the AD1 ranks depict assistant director One (1) and many more ranks according to one's qualification.