Bring Back "Superbrain Yoga" Corporal Punishment For Medical Reasons [VIDEO]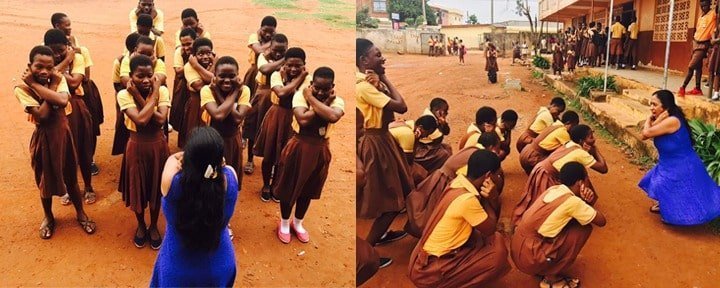 Ghana's corporal punishment commonly known in Ga as "mi toe wa minuu nii" (which translates to "I am stubborn and I don't listen to advice") has been found through research to be one of the best brain training exercises to undertake.
Superbrain Yoga not a bad corporal punishment after all
Research has proven that Superbrain Yoga (SBY) is based on the principle of ear acupuncture and subtle energy movement in the body.
It is good for enhancing the qualitative and quantitative pranic energy in the brain of persons of all ages.
The studies have proven that when Superbrain Yoga which used to be a Corporal Punishment in Ghana and many African countries is used, it improves one's concentration and memory.
It also aids in building a high level of confidence in students who undergo the training and practice constantly.
In another breakthrough study, some 1,945 students in an Indian school were made to use the "Superbrain Yoga" Corporal Punishment exercise. The findings after three months of constant practice showed increased confidence level when the students are facing examinations. A total of 86 % of the students reported that practicing Superbrain Yoga (SBY) has helped them to face examinations more confidently.
Nearly 75.9 % of the students had improved memory and concentration in class increased among 70.5% of respondents.
These are some of the useful benefits we are depriving our learners by banning such a healthy exercise as a means of correcting children in school.
Reintroducing it must however come with the aid of guidelines. It must be used as a means to help learners sharpen their brains, improve alertness among others, and not as a means of punishing.
For students to reap the full benefits of Superbrain Yoga which was once a Corporal Punishment, it must be carried out properly with learners.
Teachers can explain the full benefits of the exercise to their learners and help them practice it. It could be turned into a game that comes along with singing and clapping to take out the Corporal Punishment perception that is hanging around its use.
Researchers have proven that this exercise pumps up cells and improves neuron activity in the brain. It makes kids smart, and Medical doctors in Los Angeles have prescribed it for children to make them smarter. Teachers are applying it in classrooms around the world to make students smarter.
What is Ghana waiting for to reintroduce this in a scientific way as part of pre-lesson activities in classrooms?
Introducing the exercise can unlock dull brains in our classes and improve the alertness of the Ghanaian learner. Adults and workers are using this same exercise to activate themselves for work on a daily basis.
Superbrain Yoga Video
How to do Superbrain Yoga
To ensure you achieve maximum benefits:
1. Face East. For the elderly, face North.
2. Remove any jewelry and connect your tongue to the roof of your mouth. Leave it there throughout the exercise.
3. Take your left hand, cross your upper body to take hold of your right earlobe with thumb and forefinger. Make sure that the thumb is in front.
4. Now take your right hand across your upper body to take hold of your left earlobe. Again, make sure that the thumb is in front. At this point you're pressing both earlobes simultaneously. Make sure your left arm is close to your chest and inside your right arm.
5. Inhale through your nose and slowly squat down to the ground.
6. Hold your breath and exhale as you start making your way back up to a standing position.
7. Repeat this squatting action 14 times. Remember to keep holding your earlobes and to keep your tongue touching the roof of your mouth throughout the entire exercise.
READ: Spanking affects children's brain development just like other abuses – study
When To Expect The Results
To maximize the benefits of this practice, make it a fun daily habit with your child when getting ready for school or even after school when they need a re-charge.
For teenagers, the best way is to lead by example and also make the first 30 days a together practice (proven by first-hand experience).
You will start to see results in the first three months of daily repetition, and in seven months your child will improve their cognitive abilities (and average in school) by 20 – 35%, but by that time what once was just an exercise will become a great habit you'll want to keep all your life – one that will ensure your next generations grow up healthy and smart.
Parents are encouraged to use this exercise at home to help their children and themselves reap the full benefits.
Post Publications || Join us on Whatsapp || Post Disclaimer
---
SEND A STORY: Do you have a story for us or need a promotion/advertisement? Submit them via our email admin@ghanaeducation.org
DOWNLOAD OUR>>> MOBILE APP
JOIN OUR EDUCATION NEWS GROUPS (WHATSAPP)
Join one of our Whatsapp/Telegram Groups for current Ghana Education Service News Updates:
JOIN ONLY ONE... THANKS
TELEGRAM PAGE >>> [JOIN]
Group 1 >>New Group> [JOIN]
Group 1 >>New Group> [JOIN]
Group 1 >>New Group> [JOIN]
TELEGRAM PAGE >>> [JOIN]
Only websites that give us a URL backlink can repost our content on their sites.
---
The information contained in this post is for general information purposes only. The information is provided by GhanaEducation.Org and while we endeavour to keep the information up to date and correct, we make no representations or warranties of any kind, express or implied, about the completeness, accuracy, reliability, suitability or availability with respect to the website or the information, products, services, or related graphics contained on the post for any purpose.
||About Us|| Contact Us
---