How Pablo Acuña Raised 2 Daughters With No Arms and No Legs
Pablo Acuña is celebrated for being a Single Father who raised two daughters despite his Disabilities. 
If he can achieve this great feat, you have no reason to stop believing, you have no reason to want to give up, you cannot say, life has not treated you well because others are in tougher circumstances and yet have succeeded in life. If pepper is hot yet work survives in it, then the story of Pablo Acuña is more than enough to inspire you are you read.
How Pablo Acuña Raised 2 Daughters With No Arms and No Legs
Pablo Acuña was born in Paraguay without fully functioning arms and legs. Despite his disabilities, he has faced adversity head-on and raised two beautiful daughters.
Pablo's mother has been his primary caregiver throughout his life. She is now over 90 years old, but she still helps Pablo get around and take care of his daily needs.
Pablo uses a wheelbarrow to get around. He calls it his "legs." He also sleeps in the wheelbarrow, which his daughter says is "practically his home."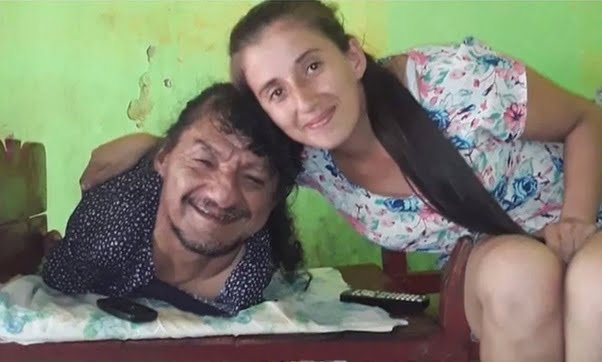 Pablo has faced many challenges in his life, but he has never given up. He is a loving and dedicated father to his two daughters.
When his youngest daughter was only four months old, her mother left. Pablo was left to raise his daughters on his own. With the help of his mother, he has done a wonderful job.
READ: Mother Abandoned Child, Returns to the House and Discovers Something
Pablo's daughter, Rosana, says that her father is her "world," her "friend," and her "confidant." She calls him the "best dad in the world."
Rosana moved to another country, but she still returned to Paraguay to help take care of her father. She says that it is a struggle to take care of him, but she is willing to do whatever it takes.
Pablo is an inspiration to us all. He has shown us that anything is possible if we set our minds to it. He is a loving father and a true inspiration.