how to get a student Loan as an International Student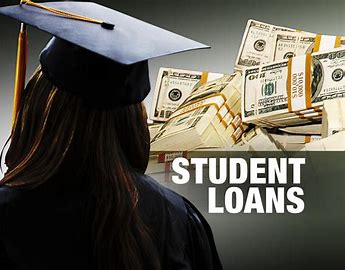 how to get a student Loan as an International Student: Obtaining a student loan as an international student is a crucial consideration when planning to study abroad, especially in popular destinations like the US, UK, or Europe, where education can be quite costly. While scholarships and grants can help, they often do not cover all your expenses and may even be subject to revocation during your studies.
A more dependable option worth exploring is student loans, and if you're seeking information on securing a loan for your international education, this article is for you.
In this article, we will discuss:
1. International student loan organizations.
2. Student loans tailored for international students.
3. Government education loan programs for studying abroad.
4. Education loans for international students without the need for collateral.
5. Bank loans designed for students pursuing education overseas.
International Student Loan Institutions/Organizations
The initial step in applying for an international student loan is to determine whether such loans are available in the country or at the university you intend to enroll in. Various organizations specialize in providing financial assistance to international students pursuing education abroad.
The table below outlines these organizations, including details such as interest rates and loan amounts they offer.
| | | |
| --- | --- | --- |
|  Organizations | Loan amount | Interest rates |
| Mpower financing | $2001 – $100000 | 12.99% – 13.98% |
| Stilt loans | $40000 | 7.99% |
| Prodigy Finance | Undisclosed | 10.50% variable APR |
| Citizen Bank | $1000 – $150000 | 5.99% – 14.25% |
| Erasmus plus | $12000 – $18000 | 0.46% – 3.0% |
| Axis bank | Rs 50000 | 3.00% – 5.00% |
| KFW credit loans | 100 – 650 euros monthly | 1.10% |
| Turing Scheme | £590 per week | Undisclosed |
| Ascent credit-based loan scheme | $2001 -$200000 | 5.62% to 16.43% |
Student loans for international students
Mpower financing
Mpower is a recognised financial organisation that offers loans to foreign students in particular. They don't ask for collateral or a cosigner in order to provide loans.Mpower loans can be used to pay for all costs associated with pursuing an education, including health insurance and other living costs. You can obtain loans up to $100,000 USD with flexible repayment choices and a set foreign school loan interest rate.
Students with greater future earning potential are more likely to be approved for Mpower loans since Mpower also keeps track of future earnings. There are no prepayment penalties and monthly online loan repayment is possible.
 Loan Eligibility for Mpower
To be eligible for an Mpower international study loan, you must be either of the following;
An undergraduate or graduate student within two years of graduating or about to resume a 1-year or 2-year program.

An international student, DACA recipient, U.S citizen, refugee or asylum seeker.
How to apply for an Mpower loan
Applying for an Mpower student loan is a very simple process. Below are the steps to follow to apply for the MPOWER student loan.
Check Loan Eligibility criteria Mpower.
Firstly, find out if your school or program allows you qualify for the student loan.
Complete the online application
Fill out and submit the mpower loan application form .
Initial Review
Your application will be received by MPOWER and reviewed after submission. If your application qualifies, you will be contacted by mpower to receive your conditional loan offer within 1-3 working days.
Upload your required documents
After recieving your offer, the next step is to upload the required documents to your mpower dashboard.
Final Review
Mpower will review all your uploaded documents and can now approve you loan
Confirm school certification and loan disbursements
This is the final step after your loan is approved. It is called the certification process.
Here, your loan application will be submitted to the university for verification. On average, it takes up to 3 weeks to complete the loan application process with Mpower, and funds are disbursed directly to the school.
Note: it is advised that you do not request for loans higher than your anticipated starting salary after graduation.
You have a maximum period of 12 months to request for the mpower loan. Apply as early as possible so you can meet up with payments before the school resumes.
Stilt Loans
Students who might have trouble getting a federal or private loan in the United States can apply for low-interest loans from Stilt without having to put up any security for their studies overseas.Similar to Mpower, it does not require a cosigner, a credit score, or a social security number in order to apply. Loan requests are accepted regardless of credit history. It is a fantastic technique to raise your credit score as well.
Stilt loans offer reasonable interest rates and the shortest loan approval times. A loan decision can be made within 24 hours of your application. However, before your money is released, a promissory note must be signed.
Spend some time on your applications for foreign student loans because complete applications will receive higher loan offers.
Eligibility for Stilt Loan
To be eligible for a stilt loan in the US, you must have the following;
A US bank account in your name

A US based personal phone number

A US address in a state where Stilt is licensed to operate

A legal visa that has a validity period of a minimum of 6 months.
How to apply for Stilt loan
To apply for a stilt loan, follow the steps below;
Check if you meet the eligibility criteria and complete the online loan application form.

Upload the required documents which includes, your passport, visa category, resume and references.

After you apply, Stilt will contact you between 24 hours to inform you of your application status. You might get an approval or be required to provide more info or documents.

Once approved, the funds will be deposited directly into your US bank account. Now, you can set up your repayment method.
Prodigy Finance
Another private company that provides low-interest student loans to international students is this one. For students without a credit history, a cosigner, or any form of collateral, it is a fantastic choice.
Prodigy Finance evaluates your projected future earnings when deciding which schools in over 850 institutions across 18 states would receive the best education loans for studying abroad.
There are no fees or penalties for early repayment, and you may select between repayment plans with terms of 7 to 20 years. However, you are required to pay a 5% origination fee.
The fact that students have a six-month grace period after graduation before loan payments are due is a significant advantage of school financing loans.
Eligibility for Prodigy Loan
To qualify for loan,
You'll also need to have been enrolled into a qualified study program

The school you are attending must be located outside your home country. However, the following exceptions may also apply ;

Students who have lived in their current country of residence for less than a year upon application.

UK residents who wish to study in the UK.

US residents may apply in the US as long as they aren't permanent residents and havent lived in the US for more than seven consecutive years.
How to apply for Prodigy finance loans
Fill out the loan application online. This is the initial stage, which entails signing up and verifying your email address. You can create an account and finish the application process after you're logged in.
Submit the necessary documentation
Choose the loan you need and upload the required documents. You'll be added to a waitlist while your loan application is put under consideration.
Finalise your loan.
You'll be notified once your loan is approved. The last step is to sign your loan so the funds can be deposited to your school.
Citizen bank
Citizen bank offers loans to undergraduate and graduates who are enrolled in Institutions abroad. It usually supports a wide range of high income potential degrees such as medicine, engineering and Law.
The bank has a unique multiyear approval feature that allows you apply for loans on multiple occasions with only one application, this means that you can use same application for future student loans without needing to reapply.
Some of its other benefits include, flexible repayment plans, competitive education loan for abroad studies interest rates and loyalty discounts.
Eligibility for Citizen Financial Loan
The following are the eligibility criteria for a student loan from citizen bank.
Have an established credit history, or a creditworthy US citizen or permanent resident cosigner

Student must be enrolled in half-time/full-time degree program at an eligible post secondary Institution.

Students must have good credit history with no outstanding loan defaults

Students who have attained the age of majority in their state of residence may not need a cosigner.
How to apply for a student loan from Citizen bank
To apply, follow this 3 simple steps;
Complete online loan application
This is a very quick process that can be done on your mobile phone or desktop.
To complete your application, you and your cosigner (if applicable) will be required to provide the following.
Proof of income( e.g pay stub)
Documentation of current immigration status (all documents must be valid throughout loan period) Anticipated graduation date.
Loan amount and the academic period for loan
2. Wait for credit decision
Once your loan is approved, you can now select the education loan for international student you need and your preferred repayment plans.
3. Sign and submit documents
Sign and accept your documents electronically on Citizen's bank loan website.
Note: Additional information may be required after you submit the application. If this happens, the bank will contact you before making a decision on your loan application.
Erasmus+ masters loan scheme
The Erasmus plus loans is designed for students who wish to get a master's degree in Europe. The program offers up to $18000 loan to cover students' tuition, living, travel and accommodation expenses.
Eligibility for Erasmus plus loan
You must hold a recognized undergraduate qualification.

You must have been enrolled into a master's qualification program at an institution recognized by Erasmus.

You must be planning to study in a country outside your home country.

Your period of study abroad must be relevant for your degree and personal development needs

You must be studying a full Masters degree programme(Post graduate certificates, diplomas as well as PhD are not included)

Citizens of erasmus countries can also apply to study in anothe programme country, provided a bank or organisation in their host country is offering the loans
How to Apply for Erasmus student loan
All loan applications should be submitted to participating banks and not the Erasmus website to avoid unsecured education loan for abroad, below is a list of some of the organizations participating in the Erasmus+ loan scheme.
Note that participating banks may set additional lending terms and conditions in accordance with the conditions set by Erasmus.
You can also apply for a master's funding if you have had a previous Erasmus loan for a previous course. However, you cannot combine two loans for the same course.
Axis bank
Axis bank provides education loans for international students studying in India or abroad. Students can get up to 40 lakhs at low interest rates with no collateral. Axis bank also offers government loan programs like the Central Government Interest Subsidy Loans for economically weaker sections.
Axis bank loan for abroad eligibility
Applicant should be over 18 years of age.

Applicants must be of Indian nationality to apply for student loans for international students without cosigner.

Students must have enrolled into a career-oriented course from a recognized college/institution in India or abroad.

Applicant must have secured at least 50% marks during HSC and graduation.

Applicant must be ready to submit all required documents on request.
How to apply for axis bank loans
Complete your online application form

Upload all the requested documents along with your loan application. The following are documents you must submit with your application:
Income statements

Bank statements/ Pass book of the last 6 months

Copy of admission letter to the University

Valid age proof( birth certificate or passport)

Guarantor form(if applicable)

Passport sized photograph
Government Education loans for study abroad
Government Education loans are funds lent to students for abroad studies by the government of a country. They offer more flexibility and provide a wide range of benefits to students.
Here are some the best government funded loans you can apply for;
Education loan for abroad studies by indian government
The Indian government has provided Education loan schemes to assist students enrolled in undergraduate and postgraduate degrees overseas. Here are some of the best government education loan for abroad in India;
Gujarat Government Education Loan for Studying Abroad

Vidya Lakshmi Education Loan Education

Loan Scheme of the NBCFDC

Padho Pardesh Scheme

Dr Ambedkar Central Sector Scheme
Sallie mae international student loans
Sallie mae loans help students cover full tuition, accommodation, travel and school related expenses. Below are the different forms of loans available under the Sallie mae student loan programme;
Undergraduate student loans

Career training student loans

Graduate student loans

Bar study loans

Dental residency and relocation loans

Health professions graduate loans

MBA loans

Law school loans

Medical residency and relocation loans

Medical school loans

Career training and trade school loans
Kfw student loan for international students
KfW loan is available for students who desire to study in Germany but cannot provide the required collateral for securing student loans.
With flexible loan terms, students have access to monthly disbursement of loans between 100 EUR to 650 EUR up to their 14th semester. It is a very good alternative to the Bafog study abroad loan without collateral.
Bafog loans
This has one of the best student loan terms in Germany. The bafog loan is the only program that offers student interest free loans.The repayment period only begins 5 years after your funding period. So you're given a 5 year grace period to find a job and settle down before repaying your loan. You can also postpone your repayment if you aren't earning enough yet.
The education loan from the Federal Office of Administration
This is a soft loan available for students at the advanced stage of their education. Students who have completed their intermediate examination, are within their master's studies or have reached the expected credit of the first two terms of their undergraduate studies are eligible to recieve up to 300 euros per month for the maximum of 24 months.
Canara bank abroad education loan
Canara bank abroad loan scheme is designed for indian students studying at top ranking institutions abroad. Students can get up to Rs 150000 to cover their academic expenses.
SBI international student loan
The educational loan initiative introduced by the State Bank India  helps students planning to study full-time or part-time international study programmes.
The following are forms of government loan for study abroad offered by the State Bank India(SBI).
SBI Global Ed-vantage Scheme

SBI skill loan

SBI part-time education courses

SBI Scholar loans

SBI student loan scheme

SBI takeover of education loan
Canadian government student loans for international study
The Canadian government provide study loans for international students. One of such loans is the Canada Student loan program. The following students are eligible for the loan;
Full-time and part-time students

Students who have dependents

Permanently disabled students

Low and middle income students
German student loans for international students
In Germany, there are varieties of education loan options for abroad studies, including state financed loans like Bafog and other private loans.
Mpower loan for international students
Mpower is a corporation that provides financial assistance for students abroad. It offers the opportunity to obtain loans without needing a cosigner. Loan ranges from $2001 to $50000 at fixed Interest rates, over two academic period.
Citizens bank international student loan
Citizen banks provide low-cost international student loans to students pursuing an advanced degree in a foreign country.
It is best for borrowers who are looking for long term funding. Loan application is simply and completely online, though you may be asked to provide a creditworthy cosigner before your loan is approved.
No cosigner student loans for international students
Although most loan providers require cosigners before giving out study loans to abroad studies, there are still a few options available that provides international students loans without cosigner.
HDFC international education loan
This international loan is exclusively for indian students studying in a foreign country.
HDFC loan covers expenses like tuition fees, accommodation fees, and book fees along with all academic related fees determined by the university with no upper limit collateral. The foreign education loan is available in 950 courses for over 2100 universities across 35+ countries.
Indian bank abroad education loan
Indian Bank Abroad(IBA) loan is available for students who have been accepted into study programmes in a recognized college/institution in India or abroad. The maximum loan limit is Rs 25 lakhs.
Stilt international student loans
Stilt provide loans to international students studying in the United States. The loans are suitable for students who have difficulty securing federal or private loans. It has a competitive interest rate with one of the quickest loan decision time, you can get a loan approval within 24 hours of applying.
International Education Financial Aid(IEFA)
IEFA is an international financial service provider that specialises in managing student debts. IEFA has partnered with other leading international loan programs to assist students in obtaining loans and other financial aid options to fund their education abroad.
Education loans for abroad studies without Collateral
Education loan without collateral are designed by organisations to help simplify student loan application process.  They are usually granted to the borrower without collateral. This means that you can get loans for your tuition, travel, living expenses and study materials without putting any form of security.
Organisations that give collateral free loans include;
Leap finance
Leap finance is an international loan provider that grants instant personal loans for international students without collateral at reduced rates to students who require financial assistance. It assists career-driven students from India who wish to pursue their tertiary education in a foreign country.
We make scholars
We make scholars is a website where you can get access to all types of abroad educational loans to fund your degree. You can get loan range from government loan to private abroad education oans without collateral. We make scholars acts as an intermediary and ensures you get loans at best interest rates.
Auxilo
Auxilo offers affordable and hassle-free education loan for study abroad without collateral for students who wish to study overseas.
Incred
Incred is a Non-Banking Financial Company that provides students collateral free education loan for abroad at low interest rates up to INR 40 lakhs . Loan application is done fully online with tech-integrated features that makes approval instant and stress-free.
Avanse
Avanse offers both secured and unsecured loans. The loans range from INR 1 lakh to INR 40 lakh.
Bank loans for Students Studying Abroad
Below are some of the banks you can get a foreign education loan from;
HDFC Credila study abroad loan
HDFC is a foreign enrolled loan provider in India that assist students with low interest loans to fund their education abroad.
Edfin microfinance bank study abroad loan
Edfin microfinance bank offers study abroad loans ranging from 2 million to 20 million naira with flexible repayment plans.
PNC bank
PNC is a financial service corporation that offers an Education Refinance Loan program aimed at helping students manage loan debts with better interest rates, flexible payment plans at affordable monthly installments.
FCMB study abroad loans
FCMB is a leading financial service provider in Nigeria aims to provide convenient and affordable financial support for students who desire to study overseas. You can get loans up to 20 million naira to cater to your school, living and travel expenses.
Discover
Discover is an online bank that offers a wide variety of private student loans at both variable and fixed rates. Loan terms are 15 years for undergraduate and 20 years for graduate programs.
Getting a student loan as an international can be difficult but not it is not impossible, with adequate research and the right steps, you too can get a student loan to fund your degree in your dream university.
ALSO READ: A Guide to Join the US Police Force as an African
BOOKMARK GHANAEDUCATION.ORG FOR MORE!