How to get the new AirtelTigo eSIM for your phone in Ghana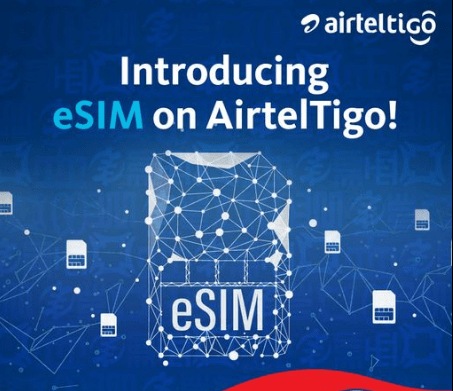 The wait is over, AirtelTigo eSIM is here! The AirtelTigo eSIM will ensure you do not need a physical SIM to enjoy the services provided by AirtelTigo. However, the eSIM may not be compatible with all mobile phones.
AirtelTigo introduces eSIM service in Ghana. This makes AirtelTigo the first to serve Ghanaians with such a service.
In this article, we will share the steps to follow to check whether your phone is compatible with the AirtelTigo eSIM as well as how to get the eSIM.
What is an AirtelTigo eSIM?
An eSim is an Electronic SIM Card. An eSIM is a SIM card that is embedded in a mobile device and can connect you to any operator offering eSIM services. It works just like any physical SIM card you currently have in your mobile device.
If you get an eSIM, you do not need to put a physical traditional SIM card with the same number into your phone again. AirtelTigo requires that you visit their office to get it installed for you.
How to get the AirtelTigo eSIM installed for you.
#1. To get an eSIM, first, dial *#06# on your phone to know if your phone is eSIM enabled.
#2. If the barcodes have EID (the phone is eSIM enabled).
#3. Visit any nearby office with a valid national ID if your phone is eSIM-supported.
READ: How to reduce laptop internet data usage and save data
When will AirtelTigo start providing the service?
Visit any AritelTigo shop from Monday 28th November to get connected.
AirtelTigo is currently operating a 3G network service, but continues to give its customers the best internet speed within that range. However, it has indicated that it will inform customers when 4G is available.
READ: AirtelTigo introduces eSIM service in Ghana: 1st in Ghana
Throwing more light on this new release, Leo Skarlatos, Chief Executive Officer AirtelTigo, said, "With the introduction of eSIM, AirtelTigo continues to stay ahead of the curve where innovation is concerned by giving its customers the much-desired flexibility to use the most advanced devices available globally and stay abreast with current technological trends. We constantly strive to deliver on our promise, Making Life Simple for all our customers through innovative products and services.