How To Join Movement For Change Led By Alan John Kyerematen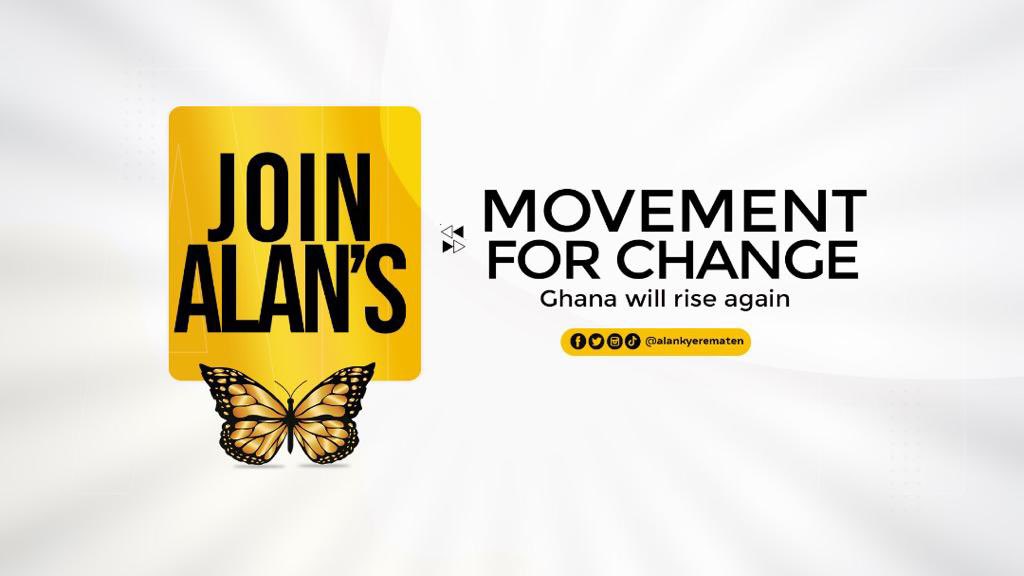 Do you want to join the Movement For Change led by Alan John Kyerematen? If yes, keep reading.
The former member of the NPP and former flag bearer ship hopeful who resigned from the New Patriotic Party has started grassroots party membership registration. He announced his intention to contest the 2024 December Presidential Elections as an independent candidate barely 72 hours ago.
The Movement For Change, led by Alan John Kyerematen has opened registration for all who would want to volunteer for the movement to help it win the 2024 elections.
How to join Alan John Kyerematen's Movement For Change
To join the movement, one will need to provide the following information  and answer the questions below
#1. Email
#2. Full Name
#3. Telephone Number
#4. Age
#5. Gender
#6. How would you like to volunteer for Alan's Campaign? Communications or Field Operations
#7. Occupation/Expertise
#8. Place of Residence (Home Address – Ghana Post Address)
#9. Region
#10 Suggest any problems, ideas, or recommendations you want Alan to know.
The above details can be entered in the [Online Form] to be considered for the various volunteer services.
Alan John Kyerematen, a former Ghanaian Minister of Trade and Industry, launched the Movement for Change (MFC) in September 2023. The MFC is a political movement that aims to promote economic transformation and social justice in Ghana.
Kyerematen, who is also a former presidential candidate of the New Patriotic Party (NPP), has said that the MFC is not a political party, but a movement that is open to all Ghanaians who share the vision of a better future for the country.
The MFC has outlined a number of key priorities, including:
Promoting economic growth and job creation
Reducing poverty and inequality
Improving access to education and healthcare
Fighting corruption and promoting good governance
The MFC has also pledged to support the development of small and medium-sized enterprises (SMEs), which it sees as the engine of economic growth in Ghana.
The MFC is still in its early stages of development, but it has already attracted the support of a number of prominent Ghanaians, including politicians, business leaders, and civil society activists.
READ: Akufo-Addo has been a disaster – Arthur Kennedy boldly reveals
It remains to be seen whether the MFC will be able to achieve its ambitious goals, but it has the potential to become a major force in Ghanaian politics.
Here are some of the challenges that the MFC faces:
The MFC is a new movement, and it will take time to build a strong base of support.
The MFC will need to overcome the divisions within Ghanaian society in order to unite people around its vision for change.
The MFC will need to develop a clear and concise plan for how it will achieve its goals.
The MFC will need to raise significant funds in order to finance its activities.
Despite these challenges, the MFC has the potential to play an important role in Ghana's future. The movement's focus on economic transformation and social justice is appealing to many Ghanaians, and its leader, Alan John Kyerematen, is a respected figure. The MFC will need to overcome a number of challenges, but it has the potential to become a major force in Ghanaian politics.