Hunter Biden to plead not guilty to gun charges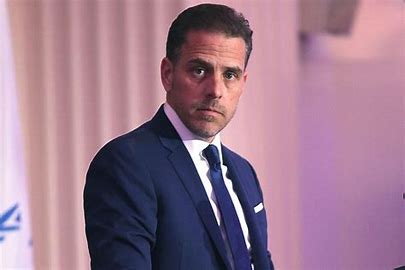 Hunter Biden to plead not guilty to gun charges; Hunter Biden, the son of US President Joe Biden, is planning to assert his innocence in response to three criminal charges connected to a firearm purchase he made in 2018, according to his attorney. Attorney Abbe Lowell, in a letter to the judge, confirmed this intention while also requesting that the initial court appearance take place remotely.
Last week, Hunter Biden was indicted for possessing a firearm while being an illegal drug user and for providing false information during the purchase. If found guilty, he could potentially face a maximum sentence of 25 years in prison.
In a two-page court filing on Tuesday, Mr. Lowell stated that Hunter Biden "will waive reading of the indictment," emphasizing that the document is brief and can be easily reviewed in a video conference.
ALSO READ: Meet the Ghanaian man who introduced internet to Africa
The attorney clarified that the request for a video hearing is not an attempt to secure special treatment for the president's son but rather an effort to minimize the strain on government resources and the disruption to the courthouse and surrounding areas caused by the Secret Service detail accompanying Hunter Biden.
Hunter Biden's legal team initially sought a remote appearance last week, which was opposed by prosecutors. Magistrate Judge Christopher Burke, in a court order issued on Monday, requested that the request be submitted in writing by Tuesday, with a response from prosecutors expected by Wednesday.
The charges against Hunter Biden date back to October 2018, a period when he was grappling with a crack cocaine addiction following the loss of his brother Beau to brain cancer. During this time, he allegedly purchased a Colt Cobra revolver impulsively, approximately two months after completing a rehab program.
However, he is accused of providing false information on the federal firearm application by claiming he was not using illegal drugs at the time, which led to two felony counts carrying potential sentences of up to 10 years each. A third count relates to his possession of the firearm while being a drug user and carries a maximum prison sentence of up to five years.
ALSO READ: "No Man Wants to Date Me"- Lady with Big Nose Cries Bitterly
The firearm was discovered in Hunter Biden's vehicle by his late brother's widow, Hallie, who discarded it in a trash bin behind a grocery store out of concern that he might harm himself. Delaware police and Secret Service agents subsequently conducted an investigation, leading to the missing gun being returned to the gun shop by an individual scavenging for recyclables.
In June, a plea agreement reached between prosecutors and Hunter Biden's legal team concerning gun and tax-related charges fell apart after another judge raised objections, deeming the agreement "unusual."
ALSO READ: Apollo Eye Infection: Causes, Effects, Prevention, and Treatment
Under the terms of that deal, Hunter Biden would have been required to acknowledge illegal firearm possession and agree to drug treatment and monitoring to avoid a felony charge and potential imprisonment. Additionally, he would have pleaded guilty to two misdemeanor counts for late tax payments in 2017 and 2018.
Legal experts anticipate that the gun charges against Hunter Biden may face constitutional challenges. He is a first-time offender who possessed the firearm for less than two weeks and never used it.
Few individuals with a similar profile typically face such charges, let alone the prospect of incarceration. Nevertheless, gun advocacy organizations like the National Rifle Association have celebrated the charges, highlighting the irony of President Biden opposing the very laws his son is now accused of violating.
FOLLOW US ON X @ (1) Ghana Education News (@GhanaEducation5) / X (twitter.com)