I funded 80% of our wedding; including rings, gown and his suit – Xandy Kamel 'exposes' ex-husband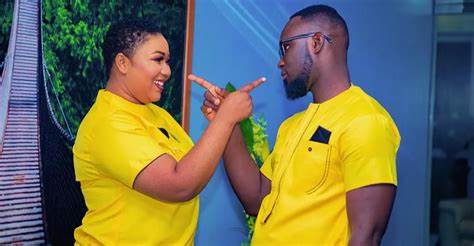 Media personality Xandy Kamel has opened up about the financial dynamics of her failed marriage to fellow presenter Kaninja in a candid interview on the Delay Show. The revelation came as a shock to many, as Kamel disclosed that she played a substantial role in financing their wedding, including purchasing the rings, gown, and even her ex-husband's suit.
According to Xandy Kamel, she took on the role of the main financial contributor, covering approximately 80% of the wedding expenses. This significant revelation sheds light on the strains that may have contributed to the dissolution of their marriage, which lasted less than six months from the time they first crossed paths at Angel Broadcasting Network.
"I bought the rings for both of us, I took about a third of the engagement expenses. In the case of weddings, we had support from sponsors, most of them well-wishers, including my seamstress whom I gave money for fabrics. His suit was bought and sent down by an uncle of mine," Xandy Kamel disclosed.
ALSO READ: Government Allocates GH¢1 Billion to MiDA (ghanaeducation.org)
Her narrative suggests a lopsided financial responsibility and raises questions about the equality and partnership within their relationship. Xandy Kamel hinted that her extensive involvement in the wedding preparations might have been a factor in her ability to dissolve the marriage.
"I married him because I did everything about the marriage, and he only came in as a man I respected because a woman must at all means make it seem that the man is in charge," Xandy Kamel suggested.
ALSO READ: Nsoatreman FC Coach Maxwell Konadu Attacked by Bofoakwa Tano Fans (ghanaeducation.org)
In response to Xandy Kamel 's revelations, Kaninja has fought back, accusing her of neglecting her responsibilities in the marriage. The public spat between the two presenters has captivated the attention of their fans and the media, turning their personal affairs into a public spectacle.
As the details of their failed marriage continue to unfold, the financial strain and differing perspectives on their roles in the relationship serve as a cautionary tale about the importance of open communication, shared responsibilities, and financial transparency in any partnership.
Teachers Updates and Credible teacher-focused news – Ghana … (bing.com)