Jealous Boyfriend Sets Family House Of His Girlfriend On Fire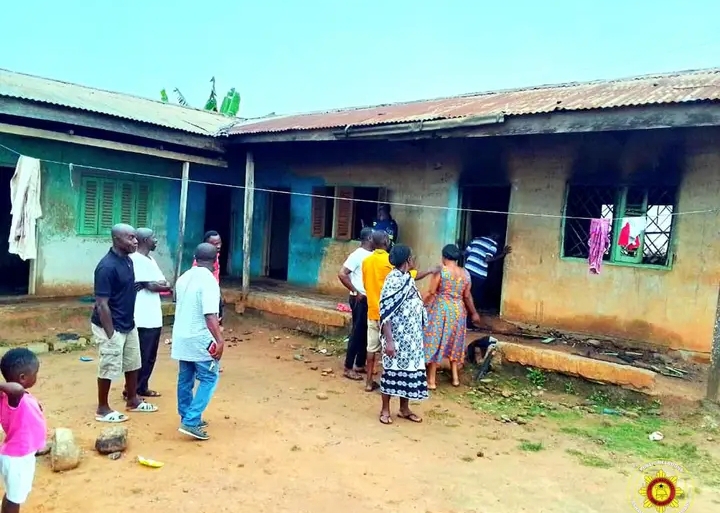 The relationship is one of the most challenging issues that the Youth of these days are battling to sustain. It is very sad that boyfriends are doing the worst to their Girlfriends whenever there is an issue of breakup. On the other hand, Girlfriends do not forgive their boyfriends when the unfortunate happens; they do terrible things.
The Ghana National Fire Service has confirmed a sad news coming from the Ashanti Region of Ghana. According to the report, a jealous boyfriend by the name Skinny sets his Girlfriend's family house on fire as a result of a misunderstanding that occurred between the two lovers.
"ASH/R:- GNFS AVERTS A FAMILY HOUSE SET ON FIRE BY A JEALOUS BOYFRIEND FROM TOTAL FIRE RUINS.
A Jealous man sets his girlfriend's family house (H/No BD 014) on fire at Agona Bedumase in the Sekyere South District in revenge over the breakup of their intimate relationship in the late hours on Friday, September 15, 2023. The suspect otherwise known as skinny who deliberately lit a candle in the girlfriend's room and placed it on a bag full of clothes to cause the fire quickly bolted from the affected room according to the girlfriend, Maame Abena who chased after the young man to get him to douse the fire.
According to Maame Abena she returned only to find the fire spreading to adjoining rooms. She intimated that some neighbours who saw her go after the boyfriend came to rescue her innocent children who were fast asleep from the affected room. According to Maame Abena, she told the boyfriend of the breakup but the young man demanded she rescinded her decision which she refused. This infuriated skinny to set her room ablaze.
The community members were full of praise to the gallant Firefighters for their swift intervention. The culprit who is on the ran has since been reported to the Police for the needful. Firefighters from the Agona Fire Station arrived at 2306 hours after receiving the distress fire call at 2303 hours to confine the fire in the room of origin and finally extinguished it at 2325 hours. The fire which did not claim any life but caused some damages to personal effects of Maame Abena, the occupant of the affected room remains under investigation until the suspect and culprit is accosted".
Filed by the PRO,
Ashanti Region
(Saturday, September 16, 2023)