Kudus Mohammed's U-12 Team Picture, Early Football Career And Net Worth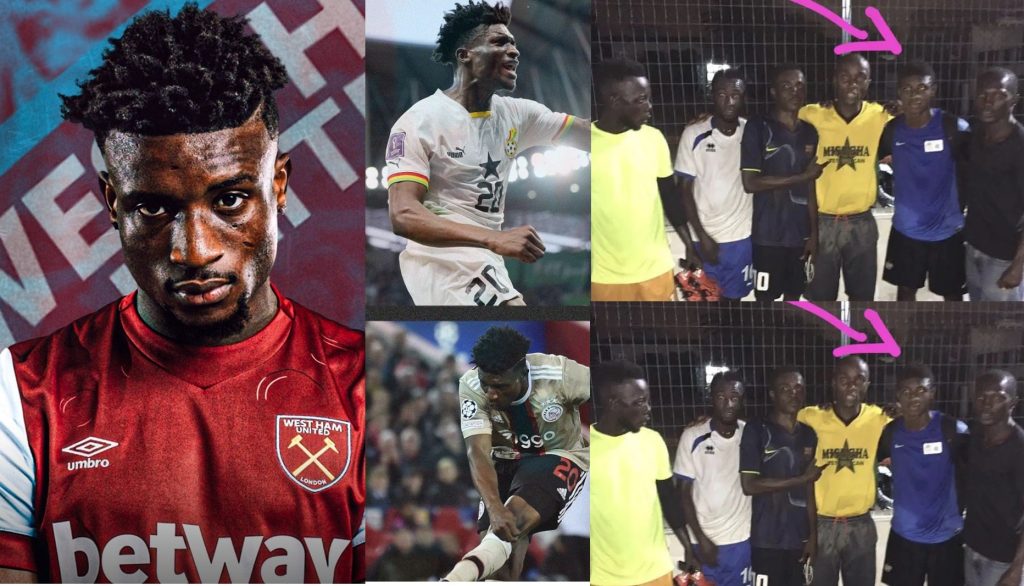 Ghanaians on social media were delighted to see a photo of Mohammed Kudus, a young when he was 11 or 12 years old. The photo, which was shared on Facebook, shows six boys posing after a soccer game in Nima, Accra. Kudus is the fifth boy from the left and second from the right. Currently, he plies his football trade in the EPL and is a West Ham United player.
Kudus joined the Premier League after being linked with moves to Arsenal and Chelsea, but he ultimately signed with West Ham United. The talented young playmaker had been linked with both clubs due to his versatility. However, he chose to join David Moyes' West Ham instead.
Ajax confirmed that they had reached an agreement with West Ham for the transfer of Kudus, with the deal costing an initial €43 million (£36.9 million). The transfer fee could increase to €46 million depending on certain conditions.
Career and Early Life of Kudus Mohammed
The Ghanaian International and West Harm player has become the most loved Ghanaian player in recent times both in his home country Ghana and globally for his skills, style of play, and work rate in football games.
Fans in Ghana, Amsterdam, and now East London love him so much. Mohammed Kudus came into the limelight when his footballing career took off at a younger age at Strong Tower FC in Nima, a football team within Nima, a locality in Accra.
At age 12, he became a player at the Right To Dream Academy where his dream to become a professional footballer was natured.
Kudus made his first major move when he signed for the Right To Dream Academy at the age of 12. At Right To Dream, he was one of the few students who earned a scholarship. Facts available to the Ghana Education News sports desk indicated that he was one of the over 15,000 children who went through the academy.
As history will have it, Mohammed Kudus signed a new deal with West Ham United in August 2023 to become the third Ghanaian International to play for the Hammers in the EPL. His predecessors were John Paintsil and Andre Ayew. His move also made him the 33rd Ghanaian to ply his trade in the Premier League.
FACTS ABOUT KUDUS MOHAMMED OF GHANA
Mohammed Kudus Net Worth: How Much Is Kudus Worth?
The fact is Mohammed Kudus's Full Net Worth IS not Known however, his annual earnings are certainly public knowledge for many football pundits and fans.
When West Ham United paid a whopping £38 million to Ajax Amsterdam, it was a step up both economically and sports-wise for Mohammed Kudus.
Prior to moving to West Ham for the 2023/2024 EPL season, Kudus previously earned €10,000 a week which translated to €520,000 annually.
READ: Discover the Amazing Skills of Mohammed Kudus, Ghanaian Footballer | Ajax Amsterdam
Today as a West Ham United player, the Black Star has seen a huge leap in his earnings as a footballer.
The Right to Dream academy groomed player pockets a staggering £90,000 a week. This added up to £4,680,000 a year and £23,400,000 over the length of his five-year contract.
In the last AFCON qualify for Cote d'Ivoire 2024, he scored an all-important goal to cancel the early lead taken by the Central African Republic in Ghana's 2-1 which saw the Ghana Black Stars top their group. Mohammed Kudus has become one of the linchpins of the Senior National Team of Ghana, the Ghana Black Stars.