My Mother Was Hospitalized Following My Arrest – Oliver Barker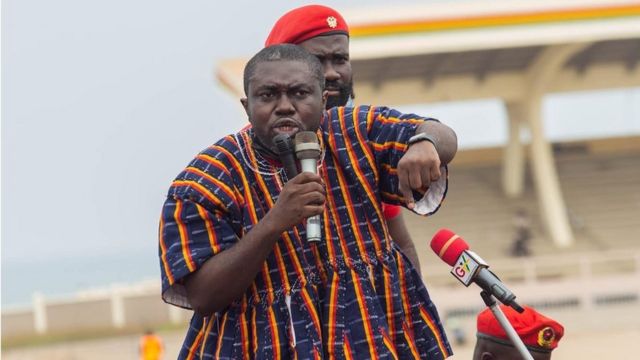 FixTheCountry convener and leader of the #OccupyJulorbiHouse protest, Oliver Barker Vormawor, has revealed that his mother was hospitalized  following his arrest on Thursday, 21st September, 2023.
Oliver Barker Vormawor made this revelation in his recent post on Facebook. Oliver Barker Vormawor added that due to the protest and other activities, he couldn't visit his mother. He added that his mother was however discharged on Saturday, 23rd Separator, 2023.
"My mum was taken into the hospital on Thursday when news broke of my arrest," he stated. "She had been on admission the whole time and was only discharged yesterday. I couldn't even visit her." he posted.
This comes after Oliver Barker and some 48 other protestors were arrested by the Ghana Police Service for trespassing. According to the Ghana Police Service, they did give warnings to the protestors about the venue they were having their demonstration. These warnings were ignored by the protestors, according to the police. Due to this, the police had no option, but to arrest them.
Ghanaians Are Suffocating In Hardship – Sarkodie Tells Akufo Addo
Oliver Barker, whose voice resonated amidst the unfolding events, stated in the police vehicle they were put in said, "We have just been arrested and taken to the police headquarters. We will provide legal assistance to all those who have been arrested today. This is not democracy."
Check Out The Reopening Date For Next Term For Basic Schools
ABOUT OLIVER BARKER VORMAWOR
Mawuse Oliver Barker-Vormawor was a researcher to the Constitution Review Commission and Law Clerk to the President of the International Court of Justice. His research interests are in International Law, Legal and Political Philosophy and Constitutional Law
Mawuse Oliver Barker-Vormawor work
Mr. Oliver is currently undertaking a Ph.D. research program at the Cambridge School of Law. He also practiced law both in Ghana and abroad. He has worked as a government advisor in many countries in Africa and the United States.
Oliver Barker uses social media to call for better governance in Ghana and Africa as a whole. He started a pressure group known as Fix The Country, where they organized a series of demonstrations and boycotts across the country. On May 4, 2021, the group used social media to protest against the high cost of living. The online protest gain national and international attention.