Nana Addo to Address the Nation, Ghanaians react on Twitter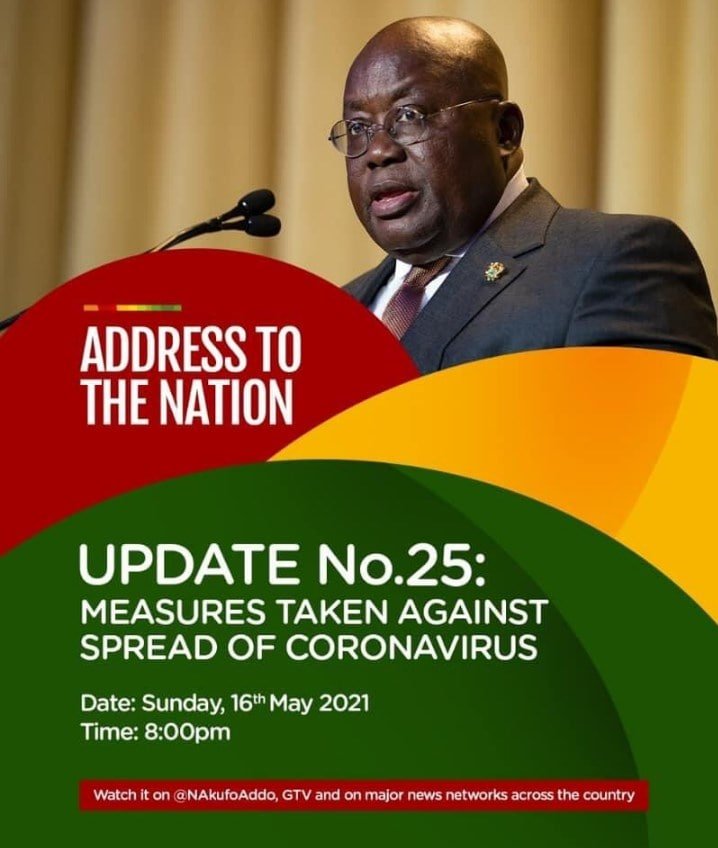 Nana Addo to Address the Nation: 25th National Address -Covid-19
The President of Ghana, Nana Akuffo Addo will through his 25th National Address update the country on measures taken to address the covid-19 pandemic among others. According to the Ministry of Information, the address will be telecast live at 8 pm tonight.
There have been rumours in town that the president has been airlifted for emergency health care outside the country.
The 25th edition of the Address the nation which will be telecast live will debunk the alligations and present governments' continuous efforts towards dealing with the global pandemic and the challenges the nation continues to face in recent times.
It is expected that the president will touch on proposed #Fixthexountry issues and set the records straight on how Ghana is recovering from the current challenges which have been largely attributed to the coronavirus pandemic.
Reactions since the announcement have been a mixed feeling…
ALSO READ:Our poor health system killed 12 year old: I am angry, sad and pissed, Hon Sam George
REACTIONS ON TWITTER
Whiles a cross-section of Ghanaians feel they are tired, others are applauding the 25th national address announcement.
"When will the following be ready 1. 88 district hosp 2. Eastern Reg Hosp 3. Keta Port 4. Cape coast Airport 5. Tamale Interchange 6. Eastern Reg Waste treatment plant 7. 350 SHS 8. 1M $ per Constituency. 9. Free Rent 10. Sky power train" is one of the comments left on the announcement on twitter.
"Stop this updates updates things, there's nothing to update on, just get the economy fixed well." another commentator said.
"The youth wants to protest and you want to bring an update. Aaabaa Mr. President." Is another sampled comment.
https://twitter.com/QwamyKhay/status/1393905808136720386
Open the cinemas

— BABS✨✨ (@Babs1_) May 16, 2021
— Abariche Ibrahim (@IbrahimAbariche) May 16, 2021
— Abariche Ibrahim (@IbrahimAbariche) May 16, 2021