Nana Ama McBrown Bonds With Her Stepson In Video, Ghanaians Marvel At How Much He Has Grown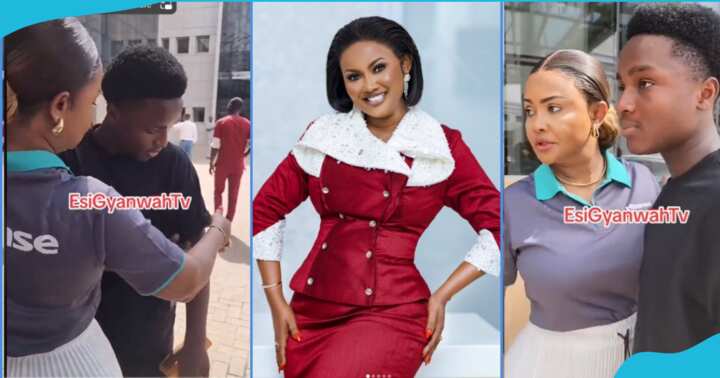 In a heartwarming display of familial love and compassion, Nana Ama McBrown melted hearts as she accompanied her stepson to a charitable event. The delightful video, capturing the actress's genuine affection and maternal instincts, has left Ghanaians in awe of McBrown's nurturing role as a stepmother.
The enchanting footage showcases McBrown and her stepson gracefully participating in the charity event. What particularly caught the attention of viewers was the actress's meticulous attention to detail when it came to her stepson's appearance. With a gentle touch, she lovingly brushed off any stray dirt from the young boy's attire, ensuring that every element of his outfit was impeccably positioned for the occasion.
ALSO READ: Nana Ama McBrown 'S Wise Words On Human Nature (ghanaeducation.org)
The warmth radiating from McBrown's actions resonated deeply with those who witnessed the touching moment. Viewers couldn't help but marvel at the visible bond between the actress and her stepson, acknowledging McBrown's exceptional parenting skills. The video circulated widely on social media platforms, sparking an outpouring of positive comments and admiration for the actress.
One of the prevailing sentiments expressed by Ghanaians was their astonishment at how much the young boy had grown. McBrown's role as a stepmother was not only applauded for its evident love and care but also for the positive impact it had on the child's well-being. Fans were quick to commend the actress for embodying the qualities of a loving and supportive stepmother.
ALSO READ: Kalybos And Wife Chill By The Beach Side In Honeymoon Video, Stirs Reactions (ghanaeducation.org)
The video serves as a testament to the importance of family bonds and the positive influence that nurturing relationships can have on a child's growth and development. Nana Ama McBrown's endearing display of affection towards her stepson has not only endeared her to fans but also reinforced the notion that love knows no boundaries when it comes to blended families.
ALSO READ: COCOBOD CEO Faces Calls For Apology As Minority Exposes Lies On Cocoa Prices (ghanaeducation.org)
In a world often filled with challenges, this heartening episode featuring Nana Ama McBrown and her stepson serves as a reminder of the beauty that lies in familial love and the impact it can have on shaping a child's character. As Ghanaians continue to celebrate the actress's multifaceted talents, her role as a loving stepmother adds another layer of admiration to her illustrious persona.
Teachers Updates and Credible teacher-focused news – Ghana … (bing.com)