New WAEC 2022 WASSCE timetable for Ghana released – Download here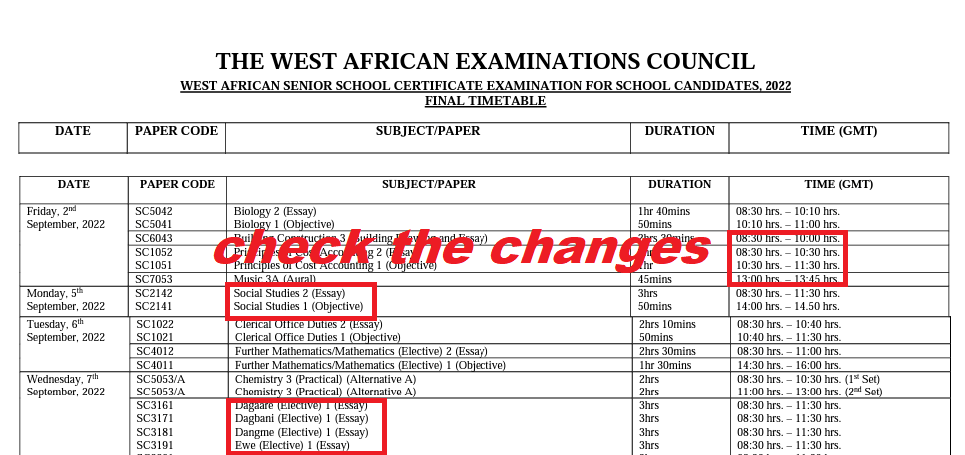 WAEC New 2022 WASSCE timetable has been released for candidates preparing for this year's WASSCE for school candidates. The examining council has rescheduled the papers in the earlier timetable, hence students, parents, teachers, and schools need to be aware of the revised timetable to help them prepare and to avoid or prevent students from missing such papers and relying on the earlier timetable. After scrutinizing the revised New WAEC 2022 WASSCE for Ghana, the following was observed.
New WAEC 2022 WASSCE timetable for Ghana released – Download here
1. The Economics paper 2 & 1, which was originally scheduled to be written in the morning on Tuesday, September 20, has been moved to the afternoon on that same day.
2. The Government paper 2 & 1 has also been rescheduled from Monday, September 12 in the morning to Wednesday,  August 24, 2022 in the morning.
3. The Chemistry 3, ALT C has also been moved from Tuesday 27, September to Tuesday, September 20, 2022.
The Council released the amended timetable for the 2022 West African Senior School Certificate Examination (WASSCE) less than 24 hours ago.
According to WAEC, the main examination is scheduled to commence on Monday 1st August 2022 with a project end date of 27th September 2022.
READ: WASSCE 2022 Trial Questions (Maths, English, E-Maths, Accounting & Science)
DOWNLOAD THE REVISED TIMETABLE HERE [DOWNLOAD]
CHECK WASSCE SAMPLE QUESTIONS AND LIKELY EXAMINATION QUESTIONS  [ALL HERE]
We hope candidates will download the New WAEC 2022 WASSCE timetable for Ghana released and study it to avoid missing their papers.
In a related development, the Ghana Education Service has disclosed that it looks forward to joining the other WEAC countries for the May/June 2024 WASSCE to be held. The GES added that Ghana had to be excused from the May/June 2022 exam and given the chance to write the WASSCE alone because the candidates would have attained the minimum contact hours if they are made to write the examination in May/June this year.
The 2023 WASSCE is also expected to be written earlier than September 2023.
[wp-rss-aggregator]