2020 SHS Placement To Be Released Today, CSSPS Portal to Open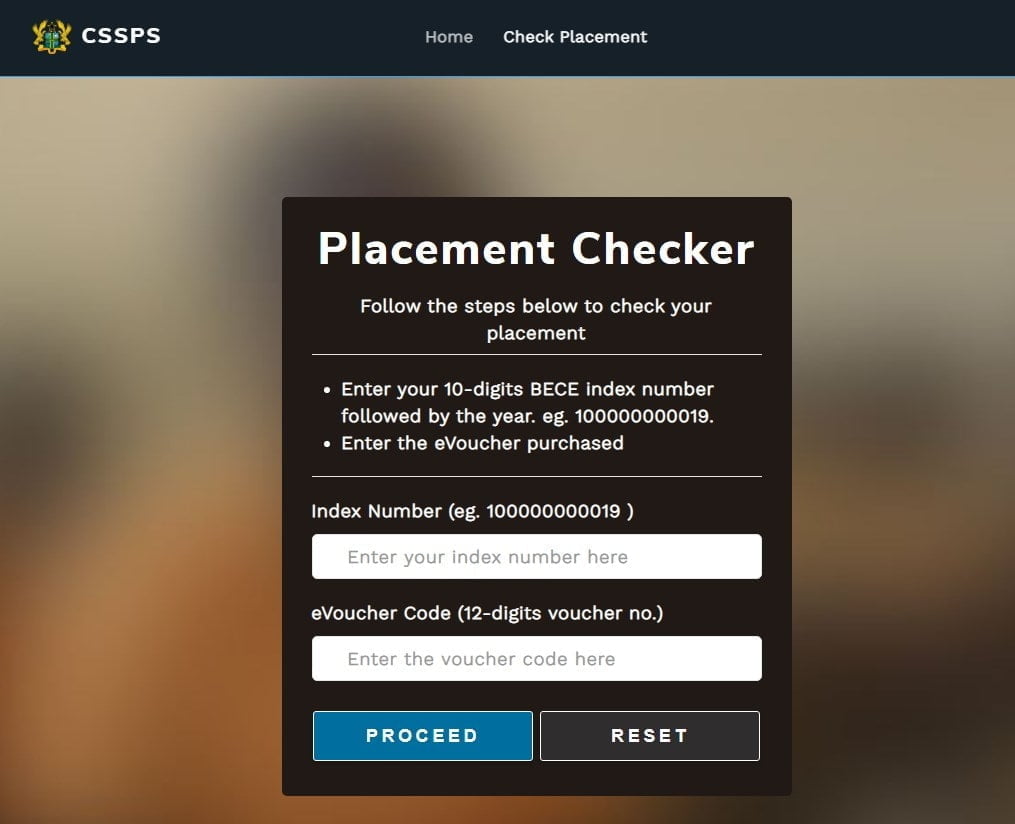 The match expected 2020 SHS Placement to be released today. This means the CSSPS portal will be open for 2020 BECE graduates and those who wrote the Private BECE to check their school placements. The Computerised School Selection and Placement System (CSSPS) was introduced some 15 years ago to replace the manual method for placing students. 
Director-General of the Ghana Education Service (GES), Professor Kwasi Opoku-Amankwa hinted that his outfit will release it today, 21st February 2021 barring any last-minute challenges. The 2020 School placement will help parents prepare for their SHS wards who are expected to report to school on 10th March 2021 along with the Gold Track SHS2 students. 
Stakeholders are waiting anxiously to check their schools from today. Whiles students will be admitted into over 270 senior high, technical and vocational schools, others are likely to use the self placement module.
Oversubscribed schools and challenges – 2020 SHS Placement
There are schools that have been oversubscribed thus, more students chose to be considered for placement than the number required and those who passed for such placements are also more than the available slots. Thus in the latest update from Prof. Opoku-Amankwa, he said BECE graduates who have qualified for placement were above available the vacancies "and every year when we do our placement, just as we get oversubscribed schools, we also get under-subscribed schools".
Targeting seamless 2020/21 School placemen (

CSSPS)

 that is error-free
The Ghana Education Service has worked hard behind the scene to provide a flawless user experience for stakeholders when it releases the school placements today. The annual ritual of long queues at regional centres for corrections and changing of schools students have been placed in will be a thing of the past. BECE graduates who are not placed in any of the five schools they chose will have to do a self placement and can also change the school or accommodation or the programme after they have submitted the placement online. This will ensure queues and 2019 school placement events do not unfold in a covid-19 era we find ourselves in.
How the School placement works
#1 The automatic placement is used to place over 90% of students under the CSSPS, and the remaining 10% is done manually or reserved for special schools and seminarians.
#2 Out of the total vacancies for placement 5% is reserved for protocols – Those whose wards benefit from this are missions, traditional landowners, alumni, sports students and children of school staff, among others.
#3 Students are placed in schools based on merit for the chose school, programme and school ranking without any manual interventions. 
#4 If a student's aggregate meets the criteria for the first choice, the system considers the programme selected, then the accommodation type availability and automatically places the student in the school if the criteria are all met. 
#5 In case the accommodation has been exhausted, the CSSPS moves the student to his or her second choice school
For instance, if a student with aggregate eight would otherwise get a place in School A, but has chosen the more competitive boarding option and space is full, because other candidates with a better aggregate have secured placement there, then the system will not place him or her on day status in that school because the day option was not the candidate's choice.

The system will move to their second choice school to attempt to get both their programme and residential choice.

If unsuccessful, the system will proceed to their third choice and so on.

Where a school is oversubscribed for a particular programme by students with similar aggregates, a tie-breaking system is employed to determine the placement.
If 300 students with Aggregate Six are competing for Science in School A and there are only 120 science spaces available, the ranking will be done such that those with Nine Ones will gain admission, followed by those with Eight Ones and so on.

If there is still the need to break a tie, this will be done in descending order with respect to the raw scores obtained.

A further tie-breaking, where necessary, will then follow with respect to the core subjects: English, then Mathematics, then Integrated Science, then Social Studies.

Candidates who miss out on all their choices can still have the opportunity to select schools with vacancies available through the self-placement process, by following instructions on the relevant portal. Source: Graphiconline.
Now you know all the details that go into the placement of students. We wish our students the best of luck as GES releases the 2020 School placements today. 
DON'T SKIP THESE POSTS ON 2020 SCHOOL PLACEMENTS
Source: Ghanaeducation.org
Post Publications || Join us on Whatsapp || Post Disclaimer
---
SEND A STORY: Do you have a story for us or need a promotion/advertisement? Submit them via our email [email protected]
JOIN OUR EDUCATION NEW GROUPS (WHATSAPP)
Join one of our Whatsapp/Telegram Groups for current Ghana Education Service News Updates:
JOIN ONLY ONE... THANKS
Group 7 >>New Group> [JOIN]
Group 6 >>New Group> [JOIN]
Group 1 >>New Group> [JOIN]
Group 2 >>> [JOIN]
TELEGRAM PAGE >>> [JOIN]
Only websites that give us a URL backlink can repost our content on their sites.
---
The information contained in this post is for general information purposes only. The information is provided by GhanaEducation.Org and while we endeavour to keep the information up to date and correct, we make no representations or warranties of any kind, express or implied, about the completeness, accuracy, reliability, suitability or availability with respect to the website or the information, products, services, or related graphics contained on the post for any purpose.
||About Us|| Contact Us
---