Online Petition Gains Momentum as Harvard Faces Backlash Over Suspension of Elom Tettey-Tamaklo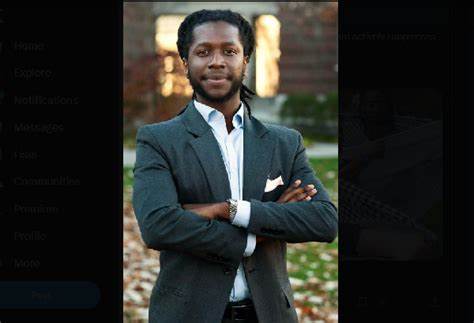 In a swift and impassioned response to the alleged eviction of Ghanaian student Elom Tettey-Tamaklo from Harvard University, an online petition has been rapidly gaining support. The petition, titled 'Calling on Harvard to Reinstate Elom as Proctor,' was created on November 18, 2023, and is on the verge of reaching its 5000-signature goal in just a matter of hours.
The controversy erupted following claims by the Harvard Undergraduate Palestine Solidarity Committee (Harvard PSC) that Tettey-Tamaklo was expelled for speaking out on the Israel-Hamas conflict, particularly regarding the situation in Gaza. The pro-Palestine group asserted that Elom, a residential advisor, is now facing disciplinary actions for his outspoken stance.
ALSO READ: MP Urges Non-Politicized 2024 Budget Discussion (ghanaeducation.org)
According to a post shared by Harvard PSC on November 15, 2023, Tettey-Tamaklo is accused of protecting students from an individual attempting to dox them. The post further alleges that a senior university leader labeled Elom as a 'gang' member, pointing to his residence in Harvard Yard. Subsequently, he was suspended as a residential advisor, with the university citing 'student discomfort' and allegedly promoting racial stereotypes.
ALSO READ: Hopeson Adorye responds to NPP dismissal (ghanaeducation.org)
The change.org petition highlights the perceived injustice in Elom Tettey-Tamaklo's suspension, emphasizing that expressing views on Palestine is protected under the First Amendment and fundamental to academic freedom. The petition expresses deep concern about Harvard's apparent departure from the principles of free speech and intellectual exploration, contradicting the ideals of higher education institutions.
The characterization of Tettey-Tamaklo as a "gang leader" by a senior university official is denounced in the petition, seen as indicative of bias and prejudice within an institution globally renowned for its commitment to diversity and inclusion.
The petition concludes with a strong call for Harvard University to reinstate Elom Tettey-Tamaklo immediately and issue an apology for their actions. The petitioners assert that such actions would reaffirm the university's dedication to protecting students' rights to express their opinions freely without fear or prejudice, sending a clear message about its commitment to the values of academic freedom and inclusion. As the petition gains momentum, it remains to be seen how Harvard will respond to the mounting pressure and scrutiny.
Teachers Updates and Credible teacher-focused news – Ghana … (bing.com)