Security guy murders employer two weeks after being employed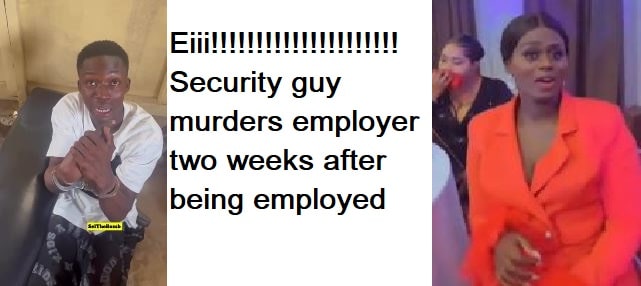 Security guy murders his employer two weeks after being employed by a lady who was doing him a favour.
Alister John is in the grip of the Ghana Police after he allegedly murdered his new employer, two weeks into his new job in East Legon.
The young security officer, according to reports circulating on the internet, has always been engaged in criminal acts.
Reports indicate that two months ago, he stole over GH¢7,000 and four mobile phones from his former employer in East Legon.
After this incident, he remained under the radar until he recently reappeared in the news, now accused of the murder of his most recent employer, who hired him just two weeks ago.
Alister John, per reports, was employed as the security guard but while on the job, he murdered his madam, Afia Ahenkan, and ran away with her car.
The Ghana Police followed up with their man-hunting operations and arrested him. He is in the custody of the Ghana police to aid in investigations relating to the criminal acts levels against him.
In the attached video, Alister John can be seen begging for mercy. According to him, he had sold all the items he stole from his victims.  He revealed during a heated interrogation by a police officer that, he had also sold the car.
In the tweet attached is a video of Alister and his new employer, he murdered.
Ghanaians have reacted to the speed at which the Ghana police acted and got the young man arrested. They heaped praises on IGP Dampare and his charges for their swift and proactive action and arrest of the suspect.
However, others took to Twitter to complain about the high rate of unemployment in the country, which might have contributed to the defiant and criminal behaviour levelled against Alister John.
It is important to add that, individuals and companies seeking to employ young men and women as security officers must do a thorough background check on such persons and at best seek the services of security companies.
READ: Adwoa Safo Begs Akuffo Addo, NPP For Forgiveness(Video)
Below are sampled comments left on the post. 
"the youth are unemployed" You get employed too then you are fooling! nti nipa kraaa bɛ yɛ den wo wiase?"
"You won't even believe it when you're told he's the culprit. GOD HELP US"
"But this small boy kraa what at all are you searching for in life? Some people fooooool too much "
"Greediness dey make u take innocent life, somebody wey put food on your plate? Bibinii mese wokahyerɛ bronii kraa ɔngyendi"
Alister John, the security guard who murdered his madam, Afia Ahenkan and ran away with her car two weeks after employing him has been arrested.

Kudos to Ghana Police. pic.twitter.com/4bW9d7MPq6

— SIKAOFFICIAL🦍 (@SIKAOFFICIAL1) September 14, 2023