EC Lawyer Expresses Regret Over SALL Disenfranchisement as Hohoe By-Election Looms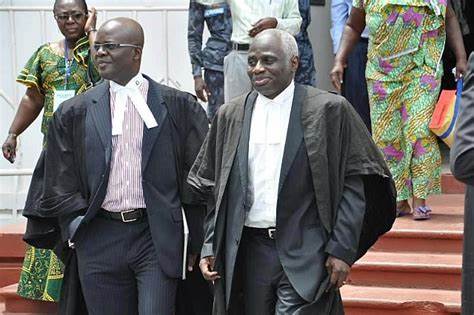 In a recent court session at the Ho High Court, the EC lawyer has expressed regrets of the disenfranchisement of the people of Santrokofi, Akpafu, Lolobi, and Likpe (SALL) in the Hohoe Constituency. The comments by the EC's counsel, Sekyi-Boampong, mark a significant acknowledgment of responsibility in a case challenging the validity of John Peter Amewu's election as the Member of Parliament (MP) for Hohoe.
Tsatsu Tsikata, the lawyer for the petitioners, argued for declaratory reliefs, including the annulment of Amewu's election, emphasizing the blight on the parliamentary election caused by the denial of SALL's right to vote. Tsikata pointed to admissions by the EC, asserting that the SALL Traditional Areas were not a district when Constitutional Instrument 112 of 2019, creating the Oti Region, came into effect.
ALSO READ: Fight breaks in 'trotro' after pastor refuses to stop preaching [VIDEO] (ghanaeducation.org)
The EC Lawyer contended that the EC's use of Constitutional Instruments 128 and 119 to disenfranchise SALL voters and alter district boundaries was unconstitutional and urged the court to set aside the election results. However, Sekyi-Boampong countered, referencing Supreme Court decisions and arguing that the admissions made by the EC did not question the validity of the election.
The court, presided over by Justice Owoahene Acheampong, adjourned the case to December 21, 2023, for a ruling. Despite a suggestion to adjourn until January 2024, Justice Acheampong maintained the urgency of the matter. Notably, Amewu, the 2nd Respondent, was absent, prompting a confirmation of his notice of the hearing.
ALSO READ:  Teacher Licensure Exams: Sammy Gyamfi Defends Mahama's Pledge to Abolish, Citing Government's Suppression Tactics (ghanaeducation.org)
The legal battle revolves around the alleged disenfranchisement of SALL residents, shedding light on the intricacies of electoral processes and constitutional interpretations. As the court prepares to rule, the implications of this case may extend beyond Hohoe, influencing electoral practices and reinforcing the importance of upholding citizens' voting rights in Ghana's democracy.
Teachers Updates and Credible teacher-focused news – Ghana … (bing.com)