Twene Amanfo SECTECH teacher beats student uncountable times at his back for no crime – Video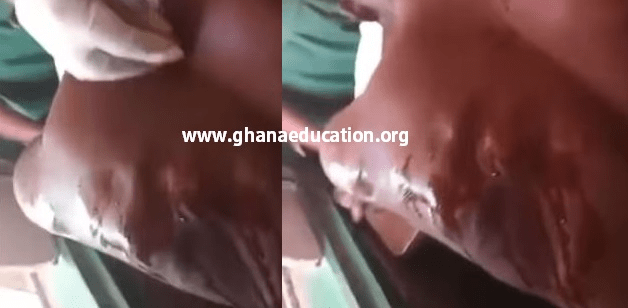 Twene Amanfo SECTECH student beaten uncountable times at his back for no crime.
A disturbing video from a concerned Ghanaian has been intercepted and shared with Ghana Education News. The video shows a Twene Amanfo SECTECH student nursing disturbing injuries he sustained allegedly after being beaten uncountable at his back for insulting a female student.
According to the information available to Ghana Education News,  the female student whose actions caused the boy to be abused while standing on the third floor of the school building three water on the making student.
The male student was not happy about what the girl did, and so he insulted her. This is the crime of the student who has been hurt by his teacher, who should know better and should have acted more responsibly. Would the teacher treat his own child or brother like that?
For his punishment, a male teacher dished out uncountable lashes at the back of the male student, leading to several cuts with blood dripping from them.
The student (Shadow) has been admitted to the Sunyani Regional Hospital. In the video attached, one can see health workers nursing the wounds of the student who is in pain. The Ghana Education Service needs to stamp its authority and re-echo its policy of no corporal punishment and abuse by teachers who use the cane in the name of discipline.
While the ban on canning and corporal punishment is in full force, teachers at the Pre-Tertiary level, teachers continue to break the rules and abuse their powers in the name of installing disciples. Their acts continue to go overboard and need to be tackled. A little over a month ago, some teachers in Annor Adjaye SHS caned some students mercilessly causing physical injury to the students. The GES is yet to issue an official statement on the matter and has not informed the public of its final punitive measures taken against those teachers. If these acts of violence from teachers toward students do not stop and the GES does not take proactive actions, we may soon have students reacting in the wrong way to these kinds of treatment teachers are taking them through.
Teachers need to develop their emotional intelligence and how to respond in terms of the actions and steps they take to ensure they stay within the confines of the law and the GES code of conduct, which frowns on corporal punishment.
Meet Shadow a student of

Twene Amanfo Senior High/Technical School

who was beaten uncountable at his back by his teacher for insulting a girl (Student) who threw water from a 3rd story building on this boy …
The student has been admitted to the Sunyani Regional hospital … Stay tuned for more updates …
WATCH THE VIDEO FROM THE SOURCE: VIDEO OF ABUSE
Developing story…we shall keep you updated