UK government increases visa fees from £15 to £115; student visa fees up from £127 to £490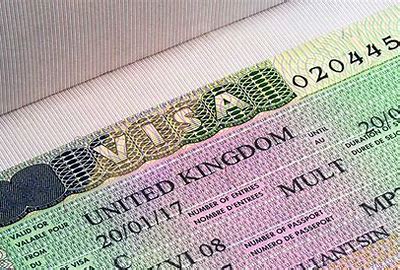 UK government increases visa fees: The United Kingdom government has announced significant increases in immigration and nationality fees, affecting various categories of visa and vital services. These fee adjustments, set to take effect from October 4, 2023, are expected to impact individuals seeking entry into the UK for various purposes.
One of the key changes is the substantial increase in the cost of visit visas for stays of less than six months. The fee for these visas, previously £15, will see a significant jump to £115. Additionally, individuals applying for a student visa from outside the UK will face an increase of £127, bringing the total fee to £490. The UK government justifies these increases by pointing out that they align with the amounts charged for in-country visa applications.
ALSO READ: NPP lost 2024 elections in 2022 – Kennedy Agyapong admits
The fee adjustments extend beyond visitor and student visas, affecting various aspects of immigration and nationality services. Some of the changes include:
1. Work and Study Visas: The majority of fees for entry clearance and specific applications for leave to remain in the UK, including those for work and study, are set to increase.
2. Indefinite Leave to Enter and Remain: Fees for applications related to indefinite leave to enter and remain in the UK are subject to these adjustments.
3. Travel Documents: Charges for convention travel documents and stateless person's travel documents will also be affected.
4. Health and Care Visa: The fees associated with the Health and Care visa category are among those being revised.
5. Certificates of Sponsorship: Fees linked to certificates of sponsorship and confirmation of acceptance for studies will see adjustments.
6. Priority Services: The cost of in-country and out-of-country fees for super priority services and the out-of-country fee for the priority service are part of the changes.
ALSO READ: My wife's boyfriends beat me when I catch them Cheating – Strong man recalls
7. Naturalization: Applications to Register and Naturalize as a British Citizen will be subject to the revised fee structure.
8. User Pays Visa Application Service: The fee for the User Pays Visa Application service will also see adjustments.
The UK government has justified these fee increases by emphasizing the role of income from fees in supporting the sustainability of the immigration and nationality system. It contends that careful consideration is given to setting fees to help reduce the funding contribution from British taxpayers while maintaining an attractive service for those wishing to work in the UK.
It's worth noting that these changes do not encompass the planned increase to the Immigration Health Surcharge (IHS), which is scheduled to be introduced later in the Autumn.
As the fee adjustments are set to take effect in the coming months, individuals planning to apply for UK visas and immigration services should be aware of these changes and budget accordingly.
FOLLOW US ON X @(1) Ghana Education News (@GhanaEducation5) / X (twitter.com)