NPP lost 2024 elections in 2022 – Kennedy Agyapong admits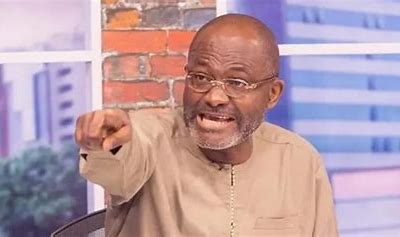 Kennedy Ohene Agyapong, a Member of Parliament for Assin Central and a hopeful presidential aspirant, has made a bold declaration that the New Patriotic Party (NPP) had essentially lost the 2024 elections in 2022, attributing it to the significant depreciation of the Ghanaian cedi during that period.
The memories of the cedi's sharp depreciation between September 2022 and January 2023 are still fresh in the minds of Ghanaians. During this period, the Ghanaian cedi experienced a substantial devaluation against the US dollar, plummeting from an exchange rate of 7 cedis to 1 dollar to as much as 15 cedis to 1 dollar. This devaluation sent shockwaves through the economy, resulting in a domino effect where the prices of essential commodities, including fuel and foodstuffs, skyrocketed.
The government had attributed this economic turbulence to the adverse impacts of the COVID-19 pandemic and the Russia-Ukraine war. However, Kennedy Agyapong firmly placed the blame on this cedi depreciation for the NPP's impending electoral loss.
Addressing a fervent crowd during one of his campaign rallies, Agyapong asserted that the NPP had already suffered defeat in 2022 due to the severe depreciation of the cedi. He highlighted the profound repercussions of this currency devaluation, emphasizing how it had devastated businesses, eroded the savings of middle-class Ghanaians, and diminished the investments of pensioners.
He remarked, "We lost the elections in 2022. The time the Ghana cedi destroyed the hard work of many businessmen, all the way to the tomato seller. Ghanaians will never forget that. The time the middle class went to court because their monies were lost, and the time the pensioners had their monies gone, Ghanaians will remember that."
However, Agyapong offered reassurance to the people, emphasizing that he was a stalwart within the NPP who always prioritized the welfare of the masses and was committed to ensuring that such a dire economic situation would not recur.
ALSO READ: My wife's boyfriends beat me when I catch them Cheating – Strong man recalls
The NPP is currently in the process of selecting its official flagbearer who will represent the party in the 2024 presidential elections, scheduled for December 2024. Kennedy Agyapong is competing against notable figures within the party, including Vice-President Mahamudu Bawumia, former Minister for Agriculture Dr. Owusu Afriyie Akoto, and former MP for Mampong, Francis Addai Nimo.
The NPP is poised to hold its national delegates' conference on November 4, where the official flagbearer for the 2024 general elections will be elected. This decision will play a pivotal role in determining the party's chances in the upcoming elections and whether they can secure a return to power.
FOLLLOW US ON X @ (1) Ghana Education News (@GhanaEducation5) / X (twitter.com)