WASSCE 2023 Applied Electricity Questions (Samples With Answers)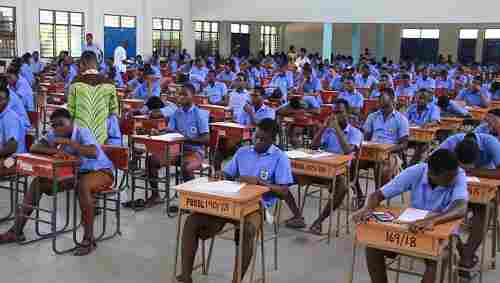 WASSCE 2023 Applied Electricity Questions (Samples) which come along with suggested answers have been shared in this post as part of efforts to help candidates revise with extra materials for the pending examination.
Applied Electricity Sample questions and answers for the 2023 WASSCE have been set to rest your readiness as a candidate for the exam.
The Applied Electricity paper will be written on Tuesday, 19th Sept, 2023.
Make yourselves abreast with these sample questions and answers
1. The magnitude of the induced emf in a coil is directly proportional to the rate of change of flux linkages. This is known as…
A. Joule's Law
B. Faraday's second law
C. Faraday's first law
D. Coulomb's Law
2. What is the process where extrinsic semiconductors are formed by the addition of trivalent or pentavalent elements into the structure of a pure semiconductor?
A. Bonding
B. Mixture
C. Doping
D. Free electrons
3. For a series resonance to occur, the inductive reactance must be equal to….
A. resistance reactance
B. power factor
C. capacitive reactance
D. impedance reactance
4. A wave has a frequency of 10 Hz and a wavelength of 2 metres. What is the velocity of the wave?
A. 5 m/s
B. 20 m/s
C. 50 m/s
D. 200 m/s
WASSCE 2023 Applied Electricity Questions (Samples With Answers)
Structure Of 2023 Subject Based Ghana Teacher Licensure Examination
5. To measure large electrical currents and voltages, the range of the measuring instrument needs to be extended to a suitable means. Which of the following resistance is used to extend the range of the instrument to measure a large current?
A. Shunt resistance
B. Rheostat resistance
C. Multiplier resistance
D. Variable resistance
6. As part of measures to increase productivity in a fruit processing factory, a conveyor is to be installed. The manufacturers of the conveyor recommend the use of a DC motor. As a newly posted technician to the factory, which of the following motors will you recommend?
A. Series motor
B. Shunt motor
C. Differentially compound motor
D. Cumulative compound motor
Dollar, Pound and Euros to Cedi Exchange Rates from Forex Bureaus For September 2023
7. An AC source is in series with R and L. If the respective potential drops are 200 V and 150 V, the value of the applied voltage is………
A. 125 V
B. 350 V
C. 200 V
D. 250 V
8. As an electrical engineer, you are designing a new electrical system for a factory. Which of the following factors should you consider to ensure the safety of the workers in the factory?
I. Properly grounding the electrical system.
II. Ensuring that the electrical equipment is properly rated for the environment it will be used in
III. Ensuring that the electrical equipment is properly maintained
A. I only
B. II and III only
C. I and III only
D. I, II and III
9. Your institution wishes to establish a laboratory for D.C. machines. Which of the following types of DC power supply would you recommend for the proposed laboratory?
A. rotary converter
B. mercury arc rectifier
C. induction motor-generator set
D. synchronous motor-generator set
ANSWERS
1. B
2. C
3. C
4. B
5. A
6. A
7. D
8. D
9. C