What Adwoa Safo said about Theresa Kufuor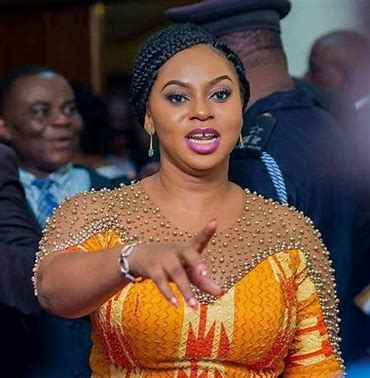 The final funeral rites for the esteemed Former First Lady, Theresa Kufuor, unfolded with profound solemnity at Heroes Park in Kumasi on November 18, 2023. This poignant occasion drew together a multitude of Ghanaians from diverse backgrounds, converging to pay their respects and bid farewell to a woman whose impact resonated deeply across the nation.
Among the attendees was the distinguished Member of Parliament for Dome Kwabenya, Sarah Adwoa Safo, who, in an interview with CitiTV during the funeral, eloquently extolled Theresa Kufuor's remarkable contributions to the betterment of the lives of women and children in Ghana. Adwoa Safo, with heartfelt sincerity, reflected on the former first lady's legacy of humility and unwavering commitment to both family and country.
ALSO READ: Married but haunted: The bizarre story of a nurse who snatched woman's husband by manipulating DNA test results (ghanaeducation.org)
In her tribute, Adwoa Safo painted a vivid picture of Theresa Kufuor as a paragon of kindness, warmth, humility, and love. She emphasized the indelible mark left by the departed matriarch, stating, "Oh, she was a very kind woman, very warm-hearted, and she did a lot for women and children in this country. That's what I remember her for, I think a sense of humility. She was a very humble person, a very loving person, and a very dedicated woman, dedicated to her marriage, dedicated to the service of this country."
SHARE YOUR COMMENTS WITH US ON THE TOPIC "What Adwoa Safo said about late First Lady Theresa Kufuor".
The funeral ceremonies commenced with a state funeral at the State House, followed by a private interment, marking the conclusion of a life well-lived at the venerable age of 87. The somber yet dignified proceedings witnessed the presence of eminent dignitaries, including President Akufo-Addo, Vice President Bawumia, industry leaders, ministers, traditional leaders, and political figures spanning various parties.
As the nation mourns the passing of a revered figure, the commemoration of Theresa Kufuor's life is set to continue with a thanksgiving service planned at St. Peter's Cathedral in Kumasi on November 19, 2023. This occasion will provide an opportunity for a collective expression of gratitude and reflection on the enduring impact of a woman whose life was dedicated to service, love, and humility.
SHARE OUR POST ON THE TOPIC What Adwoa Safo said about late First Lady Theresa Kufuor.
Teachers Updates and Credible teacher-focused news – Ghana … (bing.com)