2023 School Selection: Download and Use this Raw Score Calculator and First Choice Predictor

It will be very dangerous to do the 2023 School Selection for BECE graduates without following the rules outlined by the Ministry of Education. Download and Use this Raw Score Calculator and First Choice Predictor
This 2023 Raw Score Calculator and First Choice Predictor will help you make informed choices.
Sadly, getting the candidate's raw scores from his or her mock examinations is difficult because 99% of Junior High Schools in Ghana do not keep good records of the performance of candidates.
Schools that keep track of the progress of their BECE candidate's mock results will be able to provide you with at least the last three mock results for all such subjects.
Whether you have this BECE Mock Raw Scores Or Not, you can still make informed choices by following the tips to be shared here.
READ: Do's And Don'ts Of The 2023 School Selection Process
What to do to obtain raw scores you can work with.
We urge parents to make infirmed choices for their wards and also involve their wards and teachers/schools in the final decision.
Using a sheet of paper or Excel, list all the subjects that the candidate was examined in (Thus the 9 BECE subjects)
If the can have his or her mock papers, record the raw scores for each subject for at least two sets of papers.
Where the mock results are available with their raw scores, use the raw scores instead.
Add the raw scores of the core subjects plus the two best subjects for the mocks available.
Ask the candidate to provide his or her projected raw score for each subject in the BECE proper (They should provide the lowest and highest projected raw score for each subject. Now, reduce the highest and lowest raw scores provided by the candidates by 10 scores. For instance, if the student projects 70 and 85 as his or her raw score range for the English language, reduce them by 10. This should give you 60 and 75 for English Language.
Do the above for all the nine subjects provided.
Enter your scores in our free, simple-to-use Raw score and school choice predictor.
Note that cells coloured RED in the attached Excel sheet should not be edited.
The raw score ranges and the category to select your 1st choice from for both school selection form
Raw score range and school choice recommendations
Raw score > than or = To
400
Choose 1st Choice From Category A
Raw score > than or = To
350
Choose 1st Choice From Category B
Raw score > than or = To
300
Choose 1st Choice From Category C
Candidates with raw scores less than 300 from mocks should consider only one school from Category B and the rest from category C
Download the Excel Sheet Here To Help You – Download
Take a look at the sample for a student by the Name of Kuma Mensah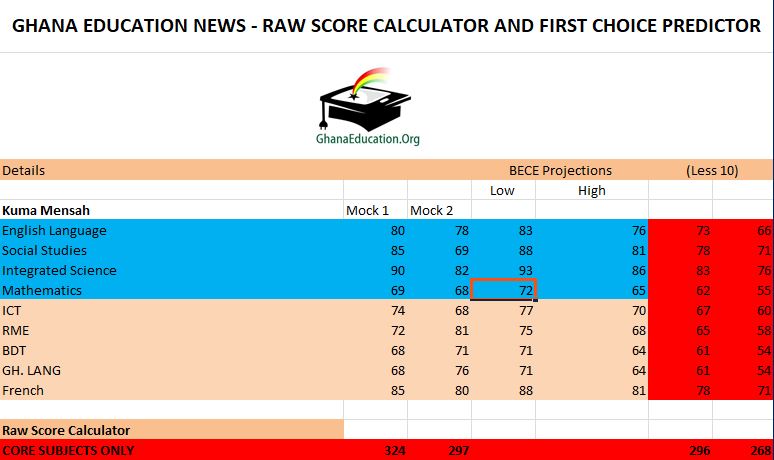 Based on his final average raw score of 445, he is advised to make a first choice from Category A.
READ: Why BECE graduates must choose TVET programmes
Disclaimer:
Note that, the final decision to use the results provided by this Raw score calculator and First choice Predctor is your personal decision. You have the right to decide whether you want to use the results provided or not. Ghana Education News will not be held liable for any errors or mistakes you make or any problem associated with the use of the Excel sheet and the results it provides you