Adwoa Sarfo's Yogurt Sharing Stunt Won't Sway Dome-Kwabenya in 2024 Elections: Video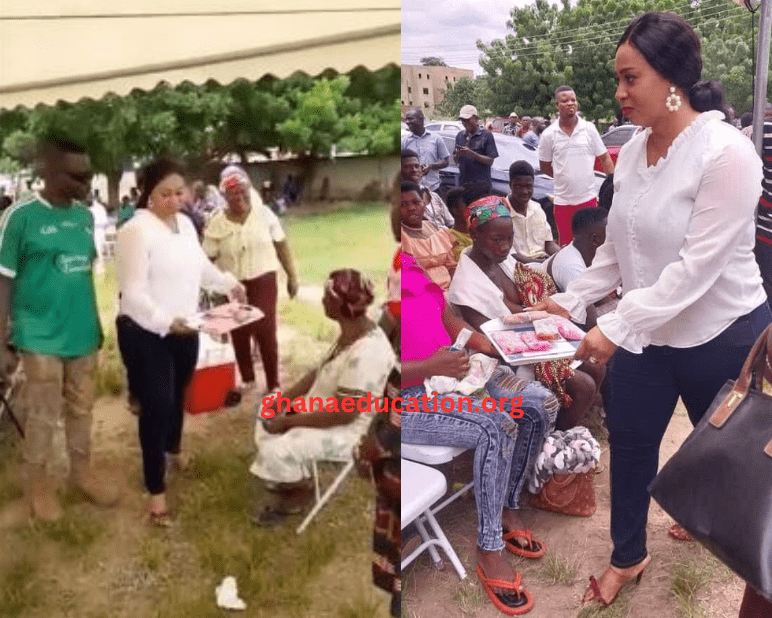 Prodigal Hon. Adwoa Sarfo sharing yogurt at voter registration centres will not "fool" Dome-Kwabenya's new and existing electorates to vote for her as their parliamentarian.
The electorates in the constituency must let her know that her Yogurt Sharing Stunt won't sway Dome-Kwabenya voters in the 2024 Elections.
Hon. Adwoa Sarfo shared yogurt at voter registration centres after neglecting her constituency for over two years as their representative in parliament.
The act of kindness has been seen by many as an attempt to "fool" the electorate in her constituency, especially the would-be first-time voters.
Over the weekend, she came out to plead for forgiveness from the rank and file of the ruling NPP. This was followed by news that she intends to contest the upcoming NPP internal elections (Primaries).
However, the Dome-Kwabenya Constituency is divided on whether she deserves to represent the NPP at the next election.
In a video sighted by the political desk of the Ghana Education news portal, the Prodigal Hon. Adwoa Sarfo can be seen sharing yogurt all by herself at one of the voter registration centres of the ongoing limited registration for new voters.
Prior to her apology to the NPP and its leadership, she disrespected her senior colleagues in Parliament, the President, and chief of staff personally went to her to cool heads, and she rubbished her.
To add insult to injury, she left her position as the gender minister 'vacant' for almost 2 years and made fun of all Ghanaians through her videos of mockery.
The entire NPP fraternity and the Dome-Kwabenya Constituency NPP members and executives would have themselves to blame if they voted to elect Hon. Adwoa Sarfo as the Dome-Kwabenya Constituency Parliamentary candidate.
The opposition NDC will also find it easier to put their campaign team and machinery against a Member of Parliament who neglected them and left her duties.
READ: Adwoa Sarfo to contest Dome-Kwabenya seat again in 2024
Adwoa Sarfo's Yogurt Sharing Stunt Won't Sway Dome-Kwabenya in 2024 Elections: Video
What's the most befitting caption for this? 🤗#MetroTV pic.twitter.com/zEyktLZCX0

— Metro TV Ghana (@metrotvgh) September 19, 2023
Adwoa Safo does not deserve to be an MP in 2025. Kick her out of parliament people of Dome Kwabenya… #DontVoteAdwoaSafo2024 Kennedy Agyapong 10k in Ghana pic.twitter.com/fIzGGBJx0N

— Ghana Education News (@GhanaEducation5) September 14, 2023
Some of the reactions to her yogurt-sharing video are shared below
X Patriots @TheTPatriots Tweeted: 
Adwoa Sarfo is not going back to Parliament.
Nii Amartey Amarboye @jjamarboye_GH Tweeted: 
She's can't be forgiven, even though she gave reasons from the onset as to why she's not be availing herself. Is this tweet in relation to her bid to continue to run for the MPship or it's just a normal tweet that she can't be forgiven by the Leadership of the Party?
Maame Esi  @MaameEsiGold Tweeted: 
She made fan of people in her party and the majority side in parliament..!!! She will not try this in the NDC and even think of going back. There're no sensible men in the NPP from top to bottom which is why she can even think of running again.
#DontVoteAdwoaSafo2024