Ken Agyapong names Ahmed Suale's killer: Showdown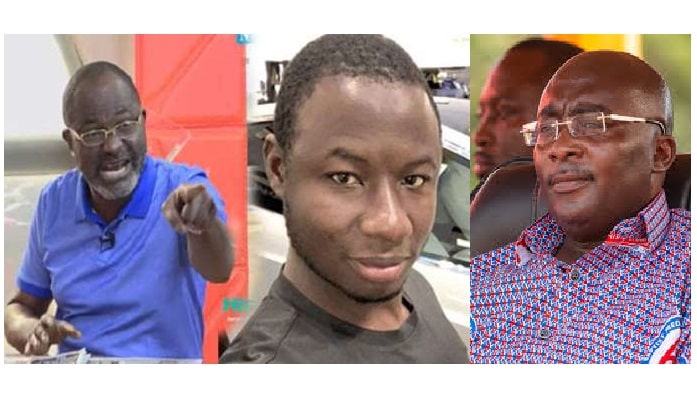 Flagbearer Aspirant and MP for Assin North, Hon. Ken Agyapong has mentioned the name of the man who killed Ahmed Suale.
According to the MP, he got the name of the killer from the Ghana Police Service. 
Ken Agyapong names Ahmed Suale's killer
According to Hon. Ken Agyapong the name of the killer is one Ansong Gyeabour. 
A blog post on Twitter reads " Ken Agyapong drops the name 'Ansong Gyeabour' as killer of Ahmed Suale. Says he got this from the police" 
Hon. Ken Agyapong had earlier on disclosed that Vice President Bawumia should know the killer of the investigative journalist. 
Bawumia is the head of the Police Council, they know the killers of Ahmed Suale, Hon. Ken Agyapong is on record to have stated. 
READ: 10 reasons why Kennedy Agyapong is never a presidential material: Bongo Ideas
Who is Ahmed Suale?
Ahmed Hussein-Suale (5 December 1987 – 16 January 2019) was a Ghanaian undercover investigative journalist and an associate of fellow Ghanaian investigative journalist Anas Aremeyaw Anas. He died on Wednesday, 16 January 2019 when unidentified men on motorbikes shot him three times, twice in the chest and once in his neck in his vehicle.
Suale was a member of investigative firm Tiger Eye Private Investigations which investigated corruption in the Ghana Football Association named Number 12 which led to the removal of office and a lifetime ban of its President Kwesi Nyantakyi. In response, Kennedy Agyapong – a Ghanaian member of parliament – called for retaliation against Suale. He was also part of an investigative journalism piece in collaboration with the BBC into human body parts sold for ritual magic in Malawi.
Suale's murder was widely condemned as an attack on journalism and freedom of expression. The Committee to Protect Journalists (CPJ) called on Ghanaian authorities to bring his killers to justice. The CPJ also urged the government to take steps to protect journalists from intimidation and violence.
In 2022, the CPJ awarded Suale its International Press Freedom Award posthumously. The award is given to journalists who have shown extraordinary courage in defending the right to freedom of expression.
Suale's death is a reminder of the dangers that journalists face in carrying out their work. It is also a reminder of the importance of protecting freedom of expression and the right to access information.
Per the information released who who killed Ahmed Suale?
According to Hon. Ken Agyapong the name of the killer of investigative journalist Ahmed Suale is one Ansong Gyeabour. 
A cross-section of social media users have questioned the accuracy of the information made public by the NPP aspiring Presidential flagbearer. Others have stated that  Hon. Kennedy Agyapong's name is associated with the death of Ahmed Suale, no amount of whitewashing and face-fronting will ever erase that from the minds of many Ghanaians.
More updates on this developing story coming soon…